'RuPaul's Drag Race' season 9 cast: Meet Valentina, the first queen competing this year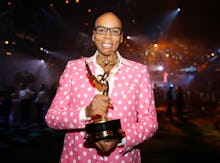 Gentlemen, start your engines: The Drag Race is starting up once again. RuPaul's Drag Race announced the first member of its season nine cast Thursday in a Facebook Live broadcast, introducing fans to one of the queens fighting for the title of America's Next Drag Superstar.
Valentina, the queen introduced, is a Los Angeles glamour queen who will be playing on home turf this season. Notably, Valentina is a very cute boy out of drag, which is a great way to amass fans of the show. (Just ask season six's Milk or season seven's Pearl.)
Valentina will battle it out with other queens to become the heir to Bob the Drag Queen's crown. Last year, the New York City queen took the title after beating 11 other queens in weeks of challenges from celebrity impersonation to makeovers.
As with last season's reveal, users of Drag Race's popular subreddit managed to guess this member of the cast ahead of time. Time will tell if they've guessed the others correctly; the rest of the cast has not been announced.
Watch the Facebook Live stream below.