'Santa Clarita Diet' Reviews: What people are saying about Drew Barrymore's zombie Netflix show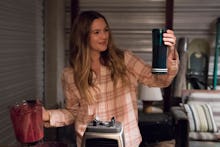 Netflix has tapped into 1980s nostalgia with Stranger Things, animation with BoJack Horseman, crime with Narcos, and now the streaming service is tackling a genre that has proved successful for other networks: zombies. Santa Clarita Diet, a new comedy starring Drew Barrymore, is out on Netflix Feb. 3, and reviews for the series are starting to pile in. 
Barrymore stars as Sheila Hammond, one half of a couple residing in the Los Angeles suburb of Santa Clarita. Along with her husband, played by Timothy Olyphant, Sheila has a daughter and works as a real estate agent, but everything is pretty mundane for her. That is, until Sheila's appetite begins to change. 
While the reviews for the zombie comedy series seem mostly positive so far, there are also some mixed reactions. Here's what critics are saying: 
Robert Lloyd, Los Angeles Times: 
It's a comedy, rather, of restraint and cooperation, of loving the seemingly unlovable, of keeping a family together in a situation that logically should tear it apart. Which is to say, it's rather sweet.
Daniel Fienberg, the Hollywood Reporter: 
If there's a modern condition that zombies can't serve as a metaphor for, Hollywood hasn't discovered it yet. Boasting the star power of Drew Barrymore and Timothy Olyphant, Netflix's 'Santa Clarita Diet' leaps into the undead figurative fray by turning fiction's most resilient brain-munchers into a way to examine, with occasional repetitiveness, suburban ennui and marital complacency, getting a reasonable amount of laughs.
Sonia Saraiya, Variety:
Like so many Netflix comedies, 'Santa Clarita Diet' is a slow burn, and the first batch of episodes doesn't quite deliver the sendup of suburbanite foibles that it could. But the seeds are all there. 
Erik Adams, A.V. Club:
It might not be the type of thing you'll want to feast on, but 'Santa Clarita Diet' is good for a little snack here or there.
Alan Sepinwall, UPROXX:
In practice, though, 'Santa Clarita Diet' is an unfortunate collection of mismatched parts, and gory humor that quickly becomes numbing. I watched all 10 episodes of the first season, which debuts Friday, almost entirely out of the disbelief that all these talented people couldn't make something better.
Chris Cabin, Collider:
Ultimately, 'Santa Clarita Diet' stands most prominently as a sadly still-timely cautionary tale, a warning against those who might make a show that is much funnier to its creators than those who are actually watching the episodes.
For more information on Netflix-related content, you can visit Mic's Netflix page.