What time will '24: Legacy' premiere? 5 things to know about the spinoff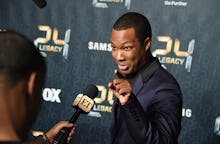 24: Legacy, a spinoff of the hit Fox series 24, will premiere Sunday immediately following the Super Bowl. The game is speculated to end around 10 p.m. Eastern and be followed by a 30-minute post-game show.
What is 24: Legacy and who's behind it? 
The political thriller, which stars Corey Hawkins as Eric Carter, follows a man racing to prevent a terrorist attack. It was created by Manny Coto and Evan Katz, both of whom served as producers on the original 24. 
24 first premiered in 2001. Each season consisted of 24 episodes, and each episode narrated one hour in the day of protagonist Jack Bauer's action-packed life working for Los Angeles' Counter Terrorist Unit. Airing for eight seasons, the show was noted for its poignancy following the attacks on Sept. 11, 2001. 
Here's a description of 24: Legacy from Fox's official site: 
Six months ago in Yemen, an elite squad of U.S. Army Rangers, led by Sergeant Eric Carter (Corey Hawkins, 'Straight Outta Compton'), killed terrorist leader Sheik Ibrahim Bin-Khalid. In the aftermath, Bin-Khalid's followers declared a fatwah against Carter, his squad and their families, forcing them into federal witness protection. But a recent attempt on Carter's own life makes it clear to him that his team is now exposed.
Who's in the cast? 
Along with Hawkins, the cast of 24: Legacy includes Miranda Otto, Jimmy Smits, Teddy Sears, Dan Bucatinsky, Anna Diop, Ashley Thomas, Charlie Hofheimer, Coral Pena and Sheila Vand. The cast has noted the importance of racial diversity in the new series. 
Is Kiefer Sutherland in the show?
Kiefer Sutherland, who serves as an executive producer of the reboot, will not be revisiting the role of Jack Bauer, which earned him an Emmy Award in 2006. 
How will 24: Legacy fit into Trump's America? 
While 24 was a unique program 16 years ago, a wide variety of shows concerning national security and terrorism, including Quantico and Homeland, are currently airing on television. But America's current political climate, with Donald Trump as president, serves as a timely backdrop to the series.