'Pokémon Go' Update: Patch 0.55.0/1.25.0 may be causing the game to crash for some players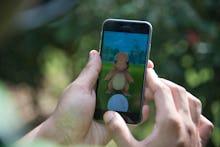 It appears as though the recent 0.55.0/1.25.0 update for Pokémon Go is causing severe issues for some users. If your game is crashing after downloading the latest patch you're not alone.
Reports from Pokémon Go players about game crashes following the most recent update are appearing on The Silph Road. If you don't push updates automatically to Pokémon Go and are running a version of the game earlier than 0.55.0, do yourself a favor and don't download the update just yet.
Pokémon Go Update: 0.55.0 patch for Android reportedly causing freezes and crashes
It would be one thing if only a single error that leads to a game freeze was being reported, but Pokémon Go players on Android devices are reporting that clicking on your trainer profile, catching a Pokémon, using the Nearby feature or evolving a Pokemon could all cause the game to crash. Reddit user OKakaroto is one of the players experiencing this crashing issue. Here's how they described what happened:
The same thing happened to me after the update. The game crashed every single time I tried to catch a Pokémon. Immediately after I clicked on it, it crashed and I got the "stopped working'" message and the "report" option. At first I was shocked, really thought it was a ban or something. I was at home, during the night. I really panicked and didn't understand why [it had happened].
OKakaroto's story is typical of the growing number of reports of problems following the most recent Android update to Pokémon Go.
Pokémon Go Update: Performance issues not affecting everyone
Reports of errors following the upload of version 0.55.0 are not unanimous. 
"For me, the app is running better than ever before [on my Sony Xperia Z1 Compact,]" wrote Trac3rTong. "Much less [closing and restarting the app now]. Also, I don't get white screens anymore when starting the app."
It's not only Android players that are reporting errors, however. Some Pokémon Go players on iOS devices are raising their eyebrows about update 1.25.0, the iOS counterpart to Android update 0.55.0.
"On iPhone 6 Plus," wrote Thematt3r. "Crashed every time I tried to open [Pokémon Go] while Spotify was playing. Crashed every other time when no other apps were running in the back ground. Before update, it would freeze upon opening so I'm not sure which is more annoying."
Again, if you don't push updates to Pokémon Go automatically, perhaps it's best to avoid update 0.55.0/1.25.0 until either these reports are proven false or a new patch is announced. Stick with the older version and keep catching Pokémon while you wait.
More Pokémon Go guides, tips, tricks and updates
Check out Mic's Pokémon Go tips and tricks. Here are guides on how to get stardust, how to determine how long it will take you to reach level 40, the kind of Pokémon you get from 10km eggs, how to create new PokéStops, how to maximize your chances of catching Pokémon and how PokéStops distribute Pokémon eggs. Also check out how to catch Gen 2 baby Pokémon, our analysis of post-balance update Chansey and Rhydon and everything you need to know about finding the long-awaited Pokémon Ditto.