'The Walking Dead' Season 7B: 4 things to know before the midseason premiere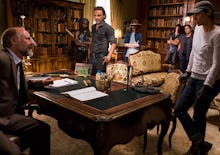 We'd be remiss if there wasn't any caution heeded for The Walking Dead's optimistic "Rise Up" marketing for the second half of season seven, if only because the first half of the season was such a depressing slog. It started with Negan killing Abraham and Glenn: an act so gruesomely shot it led some viewers to boycott the show and others to accuse it of turning into torture porn. 
It certainly didn't help once Negan introduced Daryl to the loop of "Easy Street," which was torture for the rest of us too. But there have been assurances from the series' showrunner Scott Gimple that season 7B is going to be "very different." The hope, then, is not just an uptick in quality, but perhaps Rick and the group can actually have something good happen to them once in a while — even in the zombie apocalypse. 
With the midseason premiere fast approaching, here's 4 things to know about season 7B. 
New alliances
One of the (many) criticisms of season seven so far was how disparate the various storylines were. There were so many standalone episodes — be it in the Kingdom, Hilltop of the Saviors' community — that there was very little cohesion. The only commonality was that everyone really hated working under Negan. 
Well, that might change, since Rick is finally willing to stand up to him. He just needs the numbers to do so — enter the Kingdom and Hilltop Colony. There's really no situation where the Kingdom's leader King Ezekiel would say no, especially when he already had a badass CGI tiger named Shiva (Shiva's great). It's the Hilltop that might be a trickier sell, since Gregory is still around and generally hates the entire group. But hey, that's why Maggie deserves to be in charge. 
Put simply, expect season 7B to reflect the comic book's "All Out War" arc, with the group joined by these other two communities in a stand against Negan and the Saviors. 
New characters in 7B  
We have our own theories about who the mysterious character with the dapper boots was in the midseason finale, and while there's no guarantee viewers will find out who that character is, The Walking Dead is bringing in new characters. 
The previously released season 7B synopsis details the group finding "new survivors in incredible places," and Entertainment Weekly unveiled a new photo of one such character — though the catch is that it's the back of the person's head. 
"I'm just going to say that Rick is going to meet this person and/or persons pretty quickly," Gimple told EW. "The answers are just around the heap. I cannot wait for people to meet this character and to see this actor. There is some formidable fun coming up." 
Sasha's fate  
The good news for actress Sonequa Martin-Green: She is going to have a lead role in CBS' new Star Trek series. The bad news: It probably means her Walking Dead character, Sasha, is going to die at some point this season. 
It's already been rumored that actor Michael Cudlitz is going to reprise his role as Abraham in the season seven finale, which would suggest some type of flashback or dream sequence since he was Sasha's love interest. As a result, all signs point to Sasha dying in the season seven finale, and the actress isn't doing the best job selling her characters' wellbeing. 
"Well, I can't say anything," she told EW, when asked about Sasha's fate after the Star Trek casting. "I can say that the story is as impactful and powerful and dynamic as it always has been, and there's nothing to worry about where that's concerned." 
Can Negan please die?  
As satisfying as it would be for viewers to see Negan meet his end after waving his barbed-wire bat around for half a season, there's almost no chance the character will die this season. Jeffrey Dean Morgan has already confirmed he'll reprise the role in season eight, so unless we're looking at Negan flashbacks (please, God, no), this villain isn't going down that quickly. 
Get ready for even more monologues about how rules are important. 
The Walking Dead season seven returns to AMC on Feb. 12.  
Mic has ongoing coverage of The Walking Dead. Please follow our main Walking Dead hub here.