'Rocket League' Update 1.28 Patch Notes: "No Flip" exploit, other fixes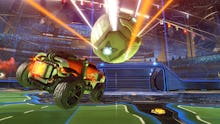 The latest Rocket League update is out. And while it's not yet confirmed if the game is coming to the Nintendo Switch, it's still available for the PS4, Xbox One and PC. As gamers continue to drive giant cars into oversized soccer balls, Psyonix continues to bring updates to its hit game — the latest of which is version 1.28. Here's what it brings to Rocket League. 
Rocket League Update 1.28 Patch Notes: "No Flip" exploit fixed
The biggest thing Rocket League's latest update fixes is the "No Flip" speed exploit. This exploit benefitted PC players in matches against console players, according to DualShockers. It also includes some smaller fixes and changes that should make for an overall smoother game.
Here are the full release notes from Psyonix:
CHANGES AND UPDATES
More video game news and updates
Hungry for more video game news? Check out the latest from Mic, including a recap of the Halo Wars 2 beta, a breakdown of the latest Diablo 3 update, the newest roster addition to Injustice 2 and a closer look at the Pokémon Go Red Scale rumor.