9 movies and marathons to watch on Super Bowl Sunday if you hate football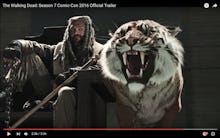 On Super Bowl Sunday, it may seem like the entire world revolves around the big game. The food, the drinks and even the commercials have all been prepped for weeks in advance of this day. For those whose favorite team isn't playing, or who are not interested in football at all, it may feel like just another Sunday. But there's no reason not to plop on the couch for a few hours with some chicken wings and guacamole; there are plenty of options for people who aren't watching the big game to still turn on their TVs. 
1. Puppy Bowl
Puppies playing football, and it's all for a good cause! Watch Team Fluff and Team Ruff duke it out for the Lombarky trophy. It's a lot cuter than the big game. The Puppy Bowl kicks off at 3 p.m. Eastern on Sunday.
2. The Crown
This Netflix series recently picked up two trophies at the SAG Awards, for Claire Foy, who plays Queen Elizabeth, and John Lithgow, for his performance as Winston Churchill. Chronicling the early life of Queen Elizabeth II, this series is very British, decidedly proper and a marked contrast to American football. 
3. The 100
Season four of this post-apocalyptic series just began and more than 1 million people have already tuned in to the first episode. If you haven't seen the first few seasons of the story of teens returning to Earth after years spent on a space station, Super Bowl Sunday is the perfect time to catch up on The 100 using the CW app.
4. La La Land and Hidden Figures 
The Oscars are just three weeks away, and if you haven't brushed up on your nominated films yet, never fear: There's still time. A few of the top candidates for best picture, including La La Land and Hidden Figures, are still available to catch on the big screen at the time of this writing. 
5. A Series of Unfortunate Events
Netflix's new series, based on the popular children's book series by author Lemony Snicket, is packed with colorful adventures and sure to entertain throughout the lengthy football game. While the books were adapted for the big screen back in 2004, the series is devoted to the books in specific detail. 
6. Miss Fisher's Murder Mysteries
Few things will remind people less of football than a female detective, dressed to the nines, solving crime in 1920's Australia. Miss Fisher's Murder Mysteries provides exactly that and much more. Catch the series on Netflix.
7. Casablanca 
Airing on TCM at 5 p.m. Eastern on Sunday is this Academy Award-winning classic story of love and politics. There's never a bad day to watch Casablanca, Super Bowl Sunday included. 
8. Pretty Little Liars  
Before the stylish bad girls of Rosewood kick off their final season April 18, fans can binge on the show via Netflix. A definite antidote to sweaty men running around a football field, watching these impeccably dressed teens dance with danger will give fans a chance to revisit the many questions raised over the years before everything is supposedly wrapped up in the last 10 episodes. 
9) Walking Dead Marathon
AMC's hot zombie series marathon begins at 8 a.m. Eastern on Sunday. If that's too early in the morning for zombies, never fear: The marathon, which focuses on seasons one and two to permit fans to revisit the origins of the story before finishing season seven, continues all day.
Mic has ongoing Super Bowl coverage. Please follow our main Super Bowl hub here.