General Strike Feb. 17: Latest updates on the planned #nationalstrike against Trump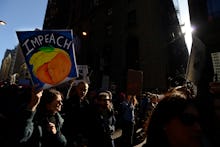 Planning continues in the effort to stage a national general strike against Donald Trump on Feb. 17, the Friday before President's Day.
First discussed on Twitter, the proposed strike received broader attention via a Jan. 30 column in the Guardian by writer Francine Prose. 
Though the strike appears to be in the developmental stages, organizers have created an official website and, as of Thursday afternoon, a Facebook event page shows close to 8,500 people planning to participate. So far, organizing has taken place online and without the support of official unions, reports the Independent.
According to the F17Strike website, the protest will be held in response to Trump's xenophobic immigration policies, his plans to repeal the Affordable Care Act and green-light construction of the Dakota Access and Keystone XL pipelines, his reinstatement of the global gag rule, and his refusal to release his tax returns and resolve his conflicts of interest.
Organizers are calling for a work stoppage and national day of community service. They are also asking participants to avoid making purchases that day.
"In his first week in office, President Trump has trampled on human rights at home and around the world," the event organizers wrote on Facebook. "Trump is not draining the swamp in Washington. He and his billionaire friends ARE the swamp."
David Simon, creator of The Wire, was one of the most high-profile figures to suggest a national general strike. In a Jan. 28 tweet, Simon wrote, "If you believe in America, show it by refusing to work on the Friday before President's Day, Feb. 17."
In her piece for the Guardian, Prose — formerly president of the PEN American Center — wrote in support of a general national strike, saying it would not be as easily ignored as separate protests and marches.
"Let's designate a day on which no one (that is, anyone who can do so without being fired) goes to work, a day when no one shops or spends money, a day on which we truly make our economic and political power felt, a day when we make it clear: how many of us there are, how strong and committed we are, how much we can accomplish," Prose wrote.
It's unclear at this point what the scope of the event will be. According to the event's Facebook page, organizers are attempting to get a coalition of groups behind it.
"On Feb. 17, we will show Donald Trump and his cronies in Washington that our voices will be heard," the organizers wrote. "No work will be done. No money will be spent. We will not support his corrupt government."