7 things to know about Awol Erizku, the artist behind Beyoncé's maternity photos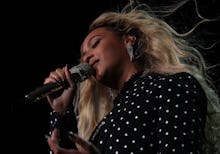 If Beyoncé's maternity portrait stunned you, you're certainly not alone. Since the photo was posted on Wednesday, it has already garnered more than 9 million likes on Instagram. 
But if you think the picture looks like a cheap department store portrait, you're also not alone. The Atlantic described one of the picture's visual references as "a family portrait taken by a mall photo studio in 1998." At least JCPenney had the good nature to respond to the haters with humor on Twitter:
Whether you love or loathe Beyoncé's portrait, you're probably wondering who created it (as well as as the additional pictures released on Beyoncé's official website.) The answer is Awol Erizku, an Ethiopian-American visual artist with quite the impressive resume. 
Though the maternity portraits remain uncredited, Erizku confirmed that he was the artist behind them in a text to ArtNews. Nobody else has seemed to get a hold of him. Even Vanity Fair reported that Erizku has not responded to the publication's request for comment.
We don't know a lot about the interdisciplinary creator, but we're at least sure of these seven things: 
His age
Erizku was born in 1988, which firmly plants him in the Millennial generation. But at age 28, he's already accomplished a lot as an artist. Keep reading and you'll learn that photographing Beyoncé is not exactly his first rodeo. 
Where he's from
Though Erizku was born in Ethiopia, he was raised a New Yorker. Now he is based in Los Angeles, but comes to New York City when his work requires it.
His specialty
Per Erizku's Artsy profile, the artist was disturbed to see so few people of color represented throughout art history. 
"There are not that many colored people in the galleries that I went to [growing up] or the museums that I went to," Erizku told Artsy. "I was just like, when I become an artist I have to put my two cents in this world."
So Erizku set out to portray them in his own creative work. He works in photography, video and sculpture, bringing his vision of people of color to museums and galleries.
His education 
Erizku attended Cooper Union in New York City for his undergraduate degree and Yale University for his MFA. According to Cooper Union's website, the New York Times named Cooper Union one of the most selective colleges, while Business Week listed it among the best design schools for creative talent. Erizku's MFA program at Yale admits just nine students per year. 
Since graduating, Erizku has had his work exhibited at prestigious venues like the Museum of Modern Art and has photographed subjects for The New Yorker, like award-winning actress Viola Davis:
His recreations
Erizku isn't just interested in bringing more people of color to galleries and museums. He also has a special interest in recreating famous portraits by legendary artists like Caravaggio and Vermeer. He stages photographs that pay homage to their work. But instead of featuring white subjects, he uses contemporary black ones.
"I am trying to create a new vernacular, in terms of how you see my work and black art as being universal," he told Complex in 2014.
His upcoming shows
Depending on where you live, you won't have to wait long to see Erizku's work in real life. According to Art News, he will have shows at Night Gallery in Los Angeles and Ben Brown in London later this year. He also has work in a New York City-based public art effort called Commercial Break.
His work online
Can't make it to Erizku's in-person shows? You can still check out his work online. He has a portfolio up on Artsy, a Facebook page, a public Twitter account and a private Instagram page with 15,000 followers.
Mic has ongoing Beyoncé coverage. Follow our main Beyoncé hub here.