Nintendo Switch Parental Controls Meme: What horrors has poor Bowser Jr. witnessed?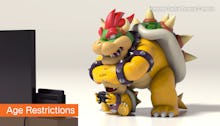 Bowser has long been the Mario universe's resident villain, but a new meme has emerged in which he's characterized as a concerned parent, shielding Bowser Jr. from the atrocities of the real world — and sometimes from Bowser's own shady past. 
The Nintendo Switch parental controls meme is one of the best things to come out of the new console so far. So let's take a closer look while we wait for the Switch to launch in March.
Nintendo Switch Parental Controls Meme Origins
This new meme — dubbed the "Parental Controls" meme or the "Bowser Control" meme — originated from a video Nintendo released to promote its new app that parents can use to limit their child's screen time with the Nintendo Switch.
Here's the original video explaining how the feature works.
At one point in the video, it notes that the app can be used to restrict what games the console can play, based on age rating. For example, if you have a young child, you can use the app to block them from playing M-rated games. At this point in the video, Bowser sprints over to Bowser Jr., shielding is young eyes from whatever childhood-scarring monstrosities have popped up on screen.
According to Behind the Meme, this portion of the video inspired a number of 4chan threads that invited others to imagine what Bowser might have been shielding Bowser Jr. from.
Nintendo Switch Parental Controls Memes
One person thought Bowser might be trying to prevent Bowser Jr. from seeing him in his embarrassing cat costume from Super Mario 3D World.
Or, maybe Bowser's not quite ready to introduce his son to the world of gay fanart.
Another imagined Bowser shielding Bowser Jr. from the horrors that lurk in the corners of 4chan itself.
And, perhaps the most salient — if that's a word that can be applied to a Bowser meme — interpretation imagines Bowser shielding Bowser Jr. from the worst horror of them all: Trump's America.
Oh, god! No! Look away!
More Nintendo Switch news and updates
For more info on the Nintendo Switch, check out details on the console's price, release date, preorders, battery life and our hands-on review. If you're interested in the Nintendo Switch's games, here's info on the new Super Mario Odyssey, Legend of Zelda: Breath of the Wild, Splatoon 2, Xenoblade Chronicles 2, 1-2-Switch and the goofy boxing game Arms.