Super Bowl Halftime Show 2017: Here's what we know about Lady Gaga's performance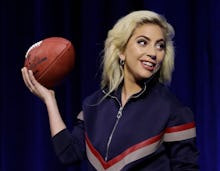 In 2016, Lady Gaga captivated audiences when she sang the National Anthem at the Super Bowl. This year — as country singer Luke Bryan takes over the anthem — the world will see Gaga take over the halftime show. 
Some details about her performance have already been revealed. This tweet from Pepsi, for instance, shows Lady Gaga's behind-the-scenes rehearsal prior to the big game:
Rumor has it, according to CBS, that she'll be performing with Tony Bennett and an accompaniment of backup dancers. Gaga also denied rumors that Beyoncé may join her for the halftime show. 
During a Feb. 2 press conference, Gaga said she won't make any statements related to our current political climate. "The only statements that I'll be making during the halftime show are the statements that I've been consistently making throughout my career," she said. 
"I believe in compassion for inclusion, I believe in the spirit of equality and the spirit of this country as one of love and compassion and kindness, so my performance will uphold those philosophies," she added.
Houston, you may recall, was the site of Justin Timberlake and Janet Jackson's infamous "wardrobe malfunction" at the 2004 Super Bowl halftime show. This time around, Gaga promised there won't be any accidents.
"Everything's going to be nice and tight for the game, so I wouldn't worry about that," she said.
She also promised a "tremendously athletic show" but didn't go into further specifics. She declined to reveal which songs she'll be singing, but SB Nation hinted that "Born this Way," "Poker Face" and "Bad Romance" will be included in her performance. 
Correction: Feb. 4, 2017