When is Lady Gaga's half time performance? Here's when to expect her to take the Super Bowl stage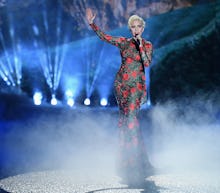 On Sunday, the Atlanta Falcons and New England Patriots will compete in America's grandest sporting event: the Super Bowl, which airs on Fox at 6:30 p.m. Eastern. This year, Lady Gaga will be hitting the stage during the halftime show to entertain the thousands of fans in attendance and the sure-to-be more than 100 million watching at home.
The Super Bowl has become more than just a game. While fans of the Atlanta Falcons and New England Patriots will have their eyes glued to the screen for obvious reasons, fans will be watching the game despite their teams being eliminated from competition long ago. Even non-football fans will likely tune in to Fox, if anything, for the always exciting halftime show with Lady Gaga, or to take part in fun prop bets.
If you do not care as much about the game as you do the illustrious Lady Gaga, and really just want to tune in for her performance, here is when you can expect the star to begin her show.
While the Super Bowl will begin at 6:30 p.m. on Fox, the halftime show will not start until, well, halftime. The first half should last somewhere between an hour and an hour in a half, with the halftime show likely starting around 8 p.m. Eastern. If you really are only interested in Lady Gaga and not the hilarious commercials (or the game) you should plan on tuning in between 7:30 and 8 p.m. to be safe. 
Of course, as the length football game can vary dramatically based on the pace of play, we will not know when the halftime show will start until we are well into the game. 
Mic has ongoing coverage of the Super Bowl. Please follow our main Super Bowl hub here.