The designers of color you should know at New York Fashion Week 2017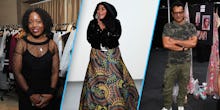 Over the past few seasons of New York Fashion Week, racial diversity has been gradually ticking up. Every year, more and more models of color are cast in shows, with press attention not only on the shows that embrace this kind of progress, but also the ones that don't.
But while model diversity at NYFW has been its highest in years, there's now the issue of how many designers of color are showing. 
In September, 46 of the designers of 150 official CFDA-sponsored brand shows and presentations were people of color. This year, by our count, there are 60, which mirrors the steady but slow progress towards a truly diverse NYFW that reflects America's — and New York's — population. 
Among the designers of color showing are some of the industry's most interesting and inventive — from Pyer Moss to Naeem Khan to Kanye West — so we've rounded up a full list of shows with designers of color, and the ones that you should watch. 
3.1 Phillip Lim 
Adeam 
Alejandra Alonso Rojas
Alexander Wang 
Wang, with a devotion to sexy sportswear that's won over fans from Tinashe to Kylie Jenner, is already set to shake up NYFW, with a presentation way up in Harlem in a still-mysterious location on Saturday at 8 p.m.
Altuzarra
Angel Sanchez 
Anna Sui 
Anniesa Hasibuan 
Back in September, Hasibuan made history as the first hijabi designer to send her models, all decked in hijabs as well, down a New York Fashion Week runway. This year, she'll probably do it again at her presentation on Tuesday at 5 p.m. 
Bibhu Mohapatra
Calvin Luo 
Charles Youssef 
Chocheng
Claudia Li 
Concept Korea 
Creatures of Comfort 
Cushnie et Ochs 
Dan Liu 
Derek Lam 
Gypsy Sport 
Gypsy Sport's designer, Rio Uribe, knows that fashion should be genderless. At his past presentations, he's shown his wild designs on models — regardless of gender or identity — in makeup and nail polish. So expect more rule-breaking at his NYFW show on Sunday at 1 p.m. too. 
Hood by Air 
ICB 
Jason Wu 
Josie Natori 
Kimora Lee Simmons
Lanyu
LaQuan Smith 
Laurence and Chico 
M. Martin 
Monse 
Naeem Khan 
Khan's show this season should be interesting, and not only because of his elaborate, gorgeous designs. He's been one of the most outspoken and political designers as of late, revealing that he turned down an opportunity to dress Melania Trump and is standing strong in support of his fellow immigrants amid Trump's travel ban. So his show on Tuesday at 11 a.m. should be one to watch. 
Namilia
Narciso Rodriguez 
Noon by Noor 
Oday Shakar 
Oscar de la Renta 
Prabal Gurung 
Public School 
Pyer Moss
R13
Romeo Hunte 
With fans like Beyoncé and Zendaya, Hunte and his streamlined, interesting, modern designs are well on their way to mass success. So if you want to get a preview of what women like Queen Bey could be spotted in these next few months, keep an eye on his show on Saturday at noon. 
Sachin and Babi
Sandy Liang 
Sheguang Hu 
Son Jung Wan 
Tadashi Shoji 
Taoray Wang 
Thakoon 
Telfar 
Theatre Products 
Tracy Reese 
A favorite of former first lady Michelle Obama, who wore Reese at the 2012 Democratic National Convention and many times after that, Reese specializes in flattering, feminine and flirty dresses, which will definitely catch the eye at her show on Sunday at 2 p.m. 
Visvim
Vivienne Hu 
Vivienne Tam 
Wang Li Ling 
Xuly Bet
Yeezy
Yeezy Season is upon us once more. For his Yeezy Season Five showing, West is running into a number of problems. For one, NYFW organizers have had enough of his shit, and he may be forced to move around his show. 
For seasons previous, he's made sure his show is seen by as many people as possible — whether that means livestreaming it on Tidal or streaming it in movie theaters — so regardless of whether it does go down on Wednesday at 3 p.m. or not, you'll probably catch a glimpse. 
Yeohlee
Yuna Yang
Zang Toi 
Zero + Maria Cornejo