Grimes, Janelle Monáe smash patriarchy symbols as warrior queens in "Venus Fly" video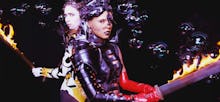 It's hard to find two artists who have taken more artful shots at the patriarchy through music than Grimes and Janelle Monáe. The two alt-pop icons have been outspoken in their mission to challenge the traditional notions about how women should handle themselves in the studio and how they should present themselves in the music. 
In their latest video for Grimes' Art Angel track "Venus Fly," appearing exclusively on Tidal, the two take their advocacy into an entirely visual dimension. They appear as two warrior queens, playing their own instruments, challenging the camera's gaze and smashing symbols of the demure and delicate woman the entertainment industry has been cultivating for years.
One of the clearest examples comes in the shot above. The video establishes a shot of the rose early, pristine in all its Beauty and the Beast elegance. But as the song begins to reach its climax — with the sword-wielding duo's lyrics intensifying their attacks on the viewer's compromising gaze — the hammer comes down. 
The lyrics match the duo's ferocity: 
Why you looking at me now?
In another key shot, Grimes climbs out of a pool of black grease and stares down an invasive camera rig, before ducking out of sight of its penetrating eye.
"Venus Fly" may be the song Grimes once described to Fader as being about "being too scary to be objectified." Or it could be the "diss track about male producers," as she described another Art Angels track, specifically telling the story of "a guy who acts like he knows everything and then comes back crawling on his knees, which has happened to me so many times."
She's backed off this narrative to a certain extent, but has jumped into the conversation to argue for the need to respect women's artistic autonomy when the mood strikes.
Monáe also recently shared some strong words about the power women can access in times of hardship. 
"As a woman you must just remind yourself that you birthed this nation," she said at the Women's March in January. "We can birth a nation and unbirth a nation. That's where your strength lies in you power and knowing what your worth and knowing that you absolutely have the right to voice your opinion."
The video takes these same messages and drives their points home with swords, claws and sledgehammers. 
Watch the video below via Tidal.
Mic has ongoing music coverage. Please follow our main music hub here.