Your US passport has a hidden — and powerful — message about immigrants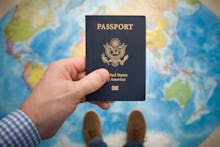 Open a U.S. passport and you'll see soaring, patriotic images: eagles and buffalo, Mount Rushmore and the Liberty Bell. Pages are topped with quotes from the likes of Presidents George Washington and Theodore Roosevelt.
But among these well-known names and images is a quote from a lesser-known figure: former Democratic New York Governor Herbert H. Lehman.
"It is immigrants who brought to this land the skills of their hands and brains to make it a beacon of opportunity and hope for all men," he said, as one passport page shows.
Now, because there are several versions of U.S. passports currently in use by the public, your passport might or might not contain the Lehman quote.
The quote came from testimony Lehman gave before a House subcommittee in 1947 — and it was first added to U.S. passports as part of a redesign for passports issued after 2004, a State Department official told Mic in an email.
Lehman himself was born to German Jewish immigrant parents in New York City in 1878. He came of age in a city teeming with immigrants, which had seen wave after wave of new arrivals pass through Ellis Island.
Succeeding his close friend Franklin D. Roosevelt as Governor of New York in 1932, Lehman advocated for public housing and unemployment relief, among other social programs: He once said that government should "concern itself with the solution of human as well as material problems."
As the U.S. faced the rising threat of fascism in Europe, Lehman asked Roosevelt — who had gone on to become president — to take special measures to help save more European Jewish refugees, to no avail. Roosevelt would not move to let Jewish refugees into the country, citing national security concerns and the possibility that some might be German spies.
But Lehman remained committed to the cause of aiding refugees.
In 1942, during World War II, he chose not to run for reelection, and resigned as Governor of New York to take a new position heading the Office of Foreign Relief and Rehabilitation Operations, where he led programs assisting refugees escaping Axis powers.
As for his quote?
The State Department official we interviewed couldn't offer any insight to Mic on how or why the quotes that decorate U.S. passports were chosen.
But Lehman's words, tucked away in the passports of millions of Americans, reads as especially poignant right now: following President Donald Trump's recent executive order banning Syrian refugees and citizens of seven Muslim-majority countries from immigrating to the United States.
It serves as a reminder that America is shaped by all her people: those native to the land, those who came by force as slaves — and those who arrive as immigrants or refugees.