In NYC, 1,000 bodegas closed to join protests against Trump's Muslim ban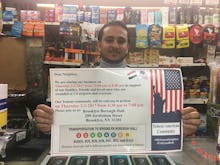 At 12:15 p.m. on Thursday, Araf Alfakih, who owns a bodega in the Murray Hill neighborhood of New York City, sold a few lottery tickets and breath mints and then closed up shop.
There was no personal emergency or natural disaster that caused Alafakih to close his 24/7 convenience store midday. Rather, he's one of 1,000 Yemeni bodega owners who committed to close their convenience stores from noon until 8 p.m. to protest President Donald Trump's executive order on immigration, which effectively prevents many families from being together and left several immigrants stranded at airports around the country after its signing on Friday evening. 
With bodegas closing, New Yorkers are again reminded that key hallmarks of the city exist thanks to hardworking immigrants. 
Anyone looking to grab some toilet paper, trail mix or deli sandwiches at a neighborhood convenience store had to look elsewhere. Yemeni-owned bodegas (of which there are hundreds) across the city displayed the sign below, informing customers they'd be closed for the strike. 
"It's one day. This [strike] is more important than what we make in one day," Sam Al Harery, an employee at a bodega in Brooklyn's Crown Heights neighborhood, who's originally from Yemen, said. According to The Nation, bodega owners in Brooklyn neighborhoods estimated they might lose $500 to $1,500 for closing on Thursday afternoon.
Word of the strike spread through the Yemeni community and was spurred by social media posts penned by the strike's organizers.
"This shutdown of grocery stores and bodegas will be a public show of the vital role these grocers and their families play in New York's economic and social fabric," Rabyaah Althaibani, one of the strike's organizers, wrote in press release posted to Facebook on Wednesday. 
According to a survey conducted by the Bodega Association of the United States, 91% of bodega owners are "a first- or second-generation immigrant who started a new business for the opportunities NYC offered." It's unclear whether bodega owners who are not Yemeni will be joining the strike in solidarity. 
Customers, on the other hand, are actively showing their support for the strike. Bodegas are community institutions in New York City — they're parked on street corners in residential areas and provide daily essentials at affordable prices. Even though the store closings may mean a momentary inconvenience for running a quick errand or picking up a forgotten ingredient, many community members have placed supportive notes onto the storefront locks that are otherwise seldom seen, particularly during daylight hours. 
"Excuse me, that's good!" Marie Bernard, a woman shopping at the Crown Heights bodega said upon hearing Al Harery talk about the strike. "I'm happy. To have freedom, you have to fight. If you stop to make money, you will have no answer." Bernard said she works seven days a week as an aide in a nursing home to provide for her family. She said she thinks Trump "is the one who will create enemies for America" — and she doesn't think discrimination against minorities, immigrants and refugees is the answer. 
"We have to fight for our rights," Al Harery said, explaining that he's lived in the U.S. for roughly seven years. "It's our country now. I feel like I'm one of these people," he said about living in America. "Where are we going to go?"
Al Harery and others can't return to Yemen. A war between the Yemeni president and a rebel movement has devastated the country, the BBC reported. The conflict has left around 80% of the population in need of aid. Many civilians have been killed, injured or suffering from food insecurity. 
Closing stores to open minds 
Araf Alfakih, the bodega owner in Murray Hill, declined an interview, explaining he did not speak English well. But while he continued to ring up customers, he dialed his wife and handed the cell phone to this reporter. 
"In Yemen, there's no more [U.S.] embassy," Faten Alfakih, Araf's wife, said over the phone. Alfakih spent two years and thousands of dollars to to secure a visa interview for her parents in Djibouti. Her mom and dad are stuck there now because of the ban, unable to reach their final destination and reunite with their daughter and other relatives who live in the U.S.. 
Alfakih's husband told her about the protest Thursday morning, learning of it himself only a few days earlier from a Yemeni neighbor who gave him a sign to hang in his store.
"We are going [to the rally] today with our community because it's wrong for [Trump] to say what he said," Alfakih said. "There are no terrorists from Yemen. Our families are the same as us — nobody is a terrorist, this is not fair." 
No fatal attacks since 9/11 have been carried out by nationals from countries involved in Trump's executive order, Politifact reported. In fact, most U.S. terrorism is perpetrated by people who grow up within the U.S. itself.
While New York families face implications from the president's targeted policies, only time will tell whether Trump — himself a native New Yorker — will hear the cries of the city he grew up in.