What time is the Puppy Bowl? 2017 start time, channel and more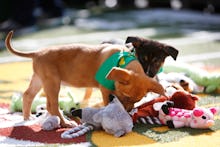 One of the joys of the Super Bowl, especially for those of us not into sports, is an event that takes place just before the big game: the Puppy Bowl. Airing on Animal Planet on Feb. 5 — the same day as the Super Bowl — at 3 p.m., the game sees two teams of rescue pups going against one another for the coveted "Lombarky" trophy.
This year's Puppy Bowl marks the 13th annual game, and for those concerned that they can't watch it AND the Super Bowl, do not fret. The Super Bowl will air at 6:30 p.m. on CBS, leaving puppy and football fans ample time to watch both. The Puppy Bowl only goes untli 5 p.m.
What else you need to know
Beginning in 2005, executives at Animal Planet wanted to take advantage of the high TV ratings of the Super Bowl and offer up a different sort of entertainment that would bring viewers to their channel, one that would see little dogs running with chew toys on a field. Initially conceived to be Animal Planet's equivalent to a taping of the Christmas yule log, the Puppy Bowl — in its 13th year — has evolved into something more elaborate.
Like with the actual Super Bowl, two teams compete in the Puppy Bowl: Team Fluff and Team Ruff. The purpose of the game is to promote animal adoption, and this year's event in particular focuses on disabled dogs. 
"Special needs dogs sometimes languish in shelters because they seem to have extra challenges, so this year we were able to have Doobert, a hearing-impaired dog; Lucky, a three-legged dog; and Winston, a sight- and hearing-impaired dog," Puppy Bowl referee Dan Schachner told EW. 
Anyway, tune in at 3 p.m. on Animal Planet to see some cute dogs in action.