Nintendo Switch vs. Wii U GamePad: 20 comparison photos with Wii U, 3DS, iPhone and more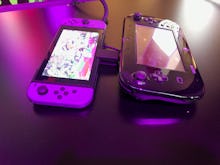 The Nintendo Switch's release is just about a month away, and interest is steadily building as that March 3 release date approaches. If you're wondering how the Switch stacks up next to the Wii U and other devices, you're in luck: We took a ton of comparison photos at the official Nintendo event and we're sharing them all now.
Nintendo Switch vs. Wii U GamePad size comparison: How does the console stack up physically?
The Nintendo Switch is tiny when viewed next to the Wii U GamePad. It's also worth mentioning that while the Wii U GamePad only works when it's near the actual Wii U console, the Switch tablet is the entire console. So Nintendo's latest console is playable at home and on the go.
When compared to the Wii U GamePad, it's clear Nintendo worked hard to slim down the Switch. Reducing the overall size and making the Joy-Con controllers removable makes for a very attractive proposition for gamers. If you were happy playing Nintendo games on the Wii U GamePad, you'll probably love the Switch.
But enough about that, on to the product shots:
Nintendo Switch vs. Wii U GamePad Size Comparison: Controllers
Most game consoles offer just one way to play games, but the Nintendo Switch presents players with not just one, but several (expensive) ways to play.
Two Joy-Cons (which on their own cost $80 as a pair, or $50 for just one) come included with the Nintendo Switch, while the Pro Controller can be bought separately (at $70). Here's how they stack up to current controller options.
Check out more Nintendo news and reviews coverage
Scroll through our other photo comparison of the Switch versus portable gadgets. For more info on the Nintendo Switch, check out details on the console's price, release date, preorders, battery life and our hands-on review. If you're interested in the Nintendo Switch's games, here's info on the new Super Mario Odyssey, Legend of Zelda: Breath of the Wild, Splatoon 2, Xenoblade Chronicles 2, 1-2-Switch and the goofy boxing game Arms.