#PenceBlackHistory recognizes our favorite white saviors during Black History Month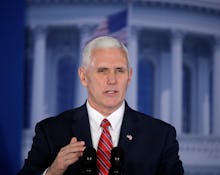 Vice President Mike Pence tweeted an appreciation of Abraham Lincoln on Wednesday night — the first day of Black History Month.
Of course, Twitter used it as an opportunity to skewer the politician/pop culture villain with the hashtag #PenceBlackHistory. In several hilarious tweets, people on Twitter found ways to sarcastically celebrate the white people associated with black history and entertainment.
#PenceBlackHistory comes to us one day after Twitter lambasted President Donald Trump with #TrumpBlackHistory, after he didn't seem to know whether Frederick Douglass was dead or alive. 
Thanks, white people. You're the real MVPs. 
And Pence: