What time is the Super Bowl 2017 kickoff? Here's what to expect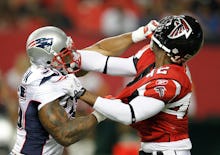 Super Bowl LI is upon us, and here's all you need to know about when to tune in and what to expect. 
What time is kickoff? 
The Super Bowl is scheduled to start on Sunday at approximately 6:30 p.m. Eastern, according to FOX's TV schedule. If you're looking for some pregame action, though, don't worry. Coverage of Super Bowl LI starts at 8:00 a.m. Eastern, as reported by the LA Times, with the actual pregame beginning at 11 a.m.
Country music singer Luke Bryan will sing the National Anthem. At halftime, Lady Gaga will perform. 
What will happen before the game?
Usually, the pregame is a hodgepodge of interviews, videos and general predictions for the event ahead. At 11 a.m., you can catch the documentary Road to the Super Bowl, which is traditional and will be complete with slow motion action shots and replays of the most intense moments of the two team's previous seasons. Live coverage from the NRG Stadium in Houston, Texas will begin around 2 p.m.