Kanye West booted from NYFW official schedule due to "bad behavior"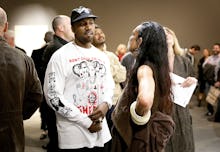 Kanye West's highly anticipated Yeezy Season 5 show at New York Fashion Week just hit a major road-block with the unexpected announcement that the Council for Fashion Designers of America (CFDA) will not list his show on its official schedule.
"Once again, CFDA was not approached or consulted about the possibility of Kanye West showing on the official New York Fashion Week schedule," Steven Kolb, president and chief executive officer of the CFDA, told Women's Wear Daily. "As the scheduler of the week, the CFDA works with more than 300 brands to identify appropriate times for them to show their collections and avoid scheduling conflicts. Not going through the proper channels is disruptive to the whole week and unfair to designers who have secured spots through the formal procedure."
He continued: "This bad behavior is not acceptable to the CFDA and should not be tolerated by the industry. Because of this, the CFDA will not list Kanye West on the official schedule. They did however note that they would be willing to work with West to secure an available time slot."
West announced without consultation from the CFDA that he would be showing the new collection on February 15 at 5 p.m., a slot already given to high-end womenswear brand Marchesa.
With over 300 brands showing over the course of the nine days allotted to New York Fashion Week, it's imperative that schedules are secured well in advance — often months. Though West has made a career habit of setting new norms, both in fashion and other ventures, this is one battle he may not win. According to unnamed sources familiar with the situation, West's team is currently closely eyeballing the schedule in the hope of finding a less disruptive time slot to fill.
Should West choose to stand his ground, he will risk forcing editors and buyers alike to make a tough decision in opting which show to attend, and which to skip out on. While West may have the star power, Marchesa, an industry and red carpet darling, has the longevity — thirteen years to be exact.
We, along with the fashion world, will be watching closely to see West's next move.