The future of ungendered clothing just made its New York Fashion Week debut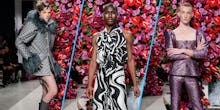 Sure, Jaden Smith shunned gender norms when he embraced skirts, but what about dresses or blouses or heels? Who's gonna champion anyone of any gender rocking those? 
Well, Palomo Spain's show at New York Fashion Week: Men's just did. 
On Thursday, male models walked the runway for Palomo Spain in elaborate and eccentric gowns, blouses and even heels in a brilliant display of what the future of ungendered clothing and dressing can really look like. 
Many of the models even wore makeup. 
Gender norms be damned, they looked damn good. 
One model even wore a corset, similar to Rihanna's Fenty x Puma show back in September, when men wore loose corsets too. 
Palomo Spain's designer, Alejandro Gomez Palomo, has long embraced feminine silhouettes, fabrics and construction for his collections, telling Vogue in January, "It is erotic to be buying men's clothes that are actually something really feminine. I think there is an attachment of mystery and excitement for women to buy men's clothes."
And according to Palomo Spain's Instagram, that's kind of what this collection was about, with a show title of "Objeto Sexual." 
Now if only some actor in Hollywood had the guts to wear one of these ensembles on a red carpet.
Mic has reached out to Palomo for further comment.