Where to eat in NYC: Restaurants that have been featured on 'Diners, Drive-ins and Dives'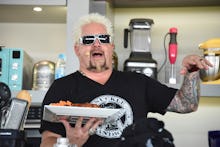 If you're looking for a quick and casual spot to eat, chances are, if it's worth dining at, it's been featured on Guy Fieri's Diners, Drive-Ins and Dives. 
While Guy's American Kitchen and Bar in Times Square may be a hard pass for New Yorkers and tourists alike (just don't), the king of Flavor Town has ventured throughout the the Big Apple — home of the beloved bodega and deli — to find some of the city's most outstanding quick-service eats. But are they really any good? 
We've investigated Yelp at some of Fieri's top New York visits to get the see what the people think of Fieri's expertise. 
Manhattan
Yelp rating: 4 stars
This wood-fired, Neapolitan-style pizza is some of the best in Manhattan, though it's rarely buzzed about. Fieri dug into the pistachio and sausage pie, though classics like melty Margarita are not to be missed. 
Yelp rating: 3.5 stars
This Middle Eastern restaurant specializing in Druze cuisine (it's actually the only Druze restaurant in New York!), is known for its flaky baked bourekas, stuffed with rich spinach or other savory fillings, which Fieri enjoyed along with thin pita, kebabs and sweet Osh Al-Saria pudding for dessert. 
Yelp rating: 4 stars
Co-owned by siblings Julie and Will Horowitz (who also run the popular Harry & Ida's), Ducks isn't quite a diner or a diver, but a purveyor of specialty renditions of classic foods, like brisket jerky, fried duck confit on a waffle and Fieri's fave, smoked chicken wings.  
Yelp rating: 4 stars 
Another spot that's more bougie than divey, the Brindle Room serves a duck confit poutine along with burgers Fieri deemed "dynamite." Chopped contestant chef Jeremy Spector is in charge of the kitchen here, so you wonder if there's some Food Network nepotism at play in the selection of these featured restaurants, because there are plenty of great, legitimate dives to get a fantastic burger at in Manhattan. 
Yelp rating: 3.5 stars
This classic red sauce joint is known for its spectacular pizzas and large pasta platters. The East Village restaurant also has a special vegan menu, which includes everything from vegan pizzas to vegan meatballs and beyond. Fieri was all over the Tuscan ragu with homemade papardelle and John's of 12th Street can be found in the episode "Best of New York" which it indeed is. 
Mama's Food Shop
Yelp rating: 4 stars, now closed 
This East Village fried chicken spot was one of Fieri's Southern staples, but it sadly closed in 2012 thanks to rising neighborhood costs. 
The Redhead 
Yelp rating: 4 stars, now closed
This gastropub (should the show change its name? Gastropubs, cool eateries, and maybe some dives?) was known for its homemade pretzels and beer cheese, and Fieri loved the warm bar snack, but not enough to keep The Redhead in business, unfortunately.  
Black Tree
Yelp rating: 4 stars, now closed
Call it the Fieri curse, but Black Tree is yet another one of the show's locations to go out of business. 
Brooklyn
Yelp rating: 4 stars
When Fieri visited this beloved Vietnamese spot, it was located off an industrial park in Ridgewood, Queens, but the restaurant has recently relocated to the arguably more hip neighborhood of Bushwick, Brooklyn. Visit for homemade summer rolls and spring rolls, crisp Vietnamese pancakes, favorites like pho and banh mi and entrees worth holding out for like a flavorful, rich chicken curry and grilled lemongrass short ribs. Entrees start at $17, so it's hard to say this critically acclaimed restaurant is a dive, but a visit here does prove Fieri's good taste. 
Yelp rating: 4 stars
All-day breakfast is a go-to at this classic diner. This is Brooklyn, however, so breakfast bowls and a burger served with a latke are also on the menu. Oh, and a kale Caesar salad. Obviously. 
Yelp rating: 4 stars
This Williamsburg haven for all things Southern is a local favorite, so it's no surprise Fieri picked this fried chicken-tastic diner to feature on his show. 
Yelp rating: 3.5 stars
Of all the Brooklyn BBQ spots (Delaney Barbecue, Fletcher's Barbecue, Hometown Bar-B-Q, Mable's Smokehouse, etc.) Fieri chose the Smoke Joint in Fort Greene to indulge in wings and ribs. In addition to beef, chicken, pork and seafood, visit this BBQ joint for the slew of sides, like old school, block party style potato salad and four-cheese mac and cheese. 
Yelp rating: 3.5 stars
Small plates, big plates and brunch make up the menu at this Park Slope spot. Fieri went for the meaty sandwiches here, though heartier entrees like scallops, duck breast with cherry glaze and steak frites are also served. 
Yelp rating: 4.5 stars
Open since 1922, this historic Red Hook sandwich shop truly has something for everyone. Fieri was all about the Sinatra special (steak, fresh mozz), but any and all of your Italian sandwich dreams can and will come true here. 
Queens
Yelp rating: 4 stars. 
This is my neighborhood bar, so I'm a little biased. This bar across the corner from New York's oldest beer garden is hardly a diner and $12 cocktails do not a dive make, but alright Fieri, we'll take it. 
Yelp rating: 4 stars
HQ to some of New York's best homemade corn tortillas, both you and Fieri are visiting for the tacos al pastor. Trust. Truly, anything served in or near a tortilla here is worth eating. 
Yelp rating: 4 stars
If you've given up on your arteries, or just want to give your healthy lifestyle a short reprieve, Queens comfort is where you're headed. Menu favorites include the Atomic Fire Balls (deep-fried mac and cheese, sriracha, ranch), Cap'n Crunch crusted chicken, the peanut butter and jelly burger topped with bacon and more delightfully sweet-and-greasy combos. Featured in the episode "All Things New York", this eclectic, caloric spot is indeed a destination for New Yorkers from all corners.  
Sage General Store
Yelp rating: 3.5 stars, now closed
After changing its name to Sage Roadhouse in February 2016, the rebranding couldn't save the 18-year-old restaurant, which closed in May 2016. I ate at the original once, which had decent roast chicken, though the server insisted the appetizer, salad, and entree courses should all be served together. The tiny table couldn't accommodate all the plates. It was uncomfortable. 
Yelp rating: 4.5 stars
Located in the Corona neighborhood of Queens, this Cuban restaurant is a neighborhood hotspot and outer borough destination for those craving spicy seafood and daily specials like ropa vieja, lechon asado and more classic Cuban dishes. Fieri dug the arroz con pollo and you will too.
Yelp rating: 4 stars
Seen in the episode "From Crepes to Kreplach," Fieri and New Yorkers alike are big fans of the dense, Eastern European Jewish dumplings, kreplach, found at this kosher deli in the Rego Park neighborhood of queens. Ben's Best also ships its food nationwide, so those not in New York can try some of the deli's famous homemade kosher eats. 
The Bronx
Mogridder's BBQ
Yelp rating: 3 stars, now closed
The only restaurant Fieri left his mark on in the Bronx is now defunct. RIP pulled pork BBQ hot dog. 
Staten Island
Even Fieri and his frosted tips say nope to Staten Island. The borough hasn't been featured on  Diners, Drive-Ins and Dives to date.