Uber CEO Travis Kalanick steps down from Donald Trump's advisory council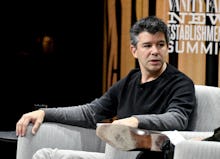 Uber CEO Travis Kalanick will reportedly step down from President Donald Trump's Strategic and Policy Forum, according to an email he sent to employees Thursday. Re/code also reports that sources have confirmed Kalanick's exit from the council. This comes just one day before the board's first official meeting on Friday. 
"Earlier today I spoke briefly with the president about the immigration executive order and its issues for our community," Kalanick wrote in the email, which was obtained by the New York Times. "I also let him know that I would not be able to participate on his economic council. Joining the group was not meant to be an endorsement of the president or his agenda, but unfortunately, it has been misinterpreted to be exactly that."
The move follows a wave of condemnation against Kalanick's ride-sharing company. Following Trump's immigration ban, users rushed to delete the app in response to Kalanick's continued willingness to work alongside the president. 
The Independent Drivers Guild launched a petition Thursday urging Kalanick to step down. It also asked Uber to contribute to nonprofit organizations fighting the ban, publicly state it wouldn't penalize drivers for protesting the ban and implement a tipping feature within the app. 
"This is an important show of solidarity with the immigrant drivers who helped build Uber," said IDG founder Jim Conigliaro Jr. in a statement emailed to Mic. "We are heartened that Uber has listened to the drivers and the community on this important issue that is so integral to the promise of the American dream."
Here is Kalanick's full memo:
Dear Team,
Uber and other tech companies, including Apple, Alphabet and Facebook, recently drafted a letter to the Trump administration criticizing the recent immigration ban. 
Feb. 2, 2017, 5:10 p.m.: This story has been updated.