Texas high school students throw up Nazi salute during "silly picture" for senior class photo shoot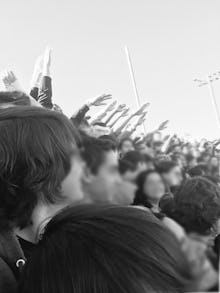 If there was any question whether anti-Semitism, previously confined to the dark corners of the internet and the like, has hit the mainstream, one need only to look to the case of Cypress Ranch High School.
Earlier this week, candid images taken during the school's senior class photo began making the rounds on social media showing some students at the Cypress, Texas, school doing a Sieg Heil. 
According to a tweet, the students were reacting to a couple girls in the class who threw up a black power fist during the "silly picture."
In an email sent to Houston station KPRC, a student said at least 70 students made the gesture, shouting "Heil Hitler" and "Heil Trump" as they did.
While the action may have been in jest, the growing significance of the Nazi salute in today's political climate is quite real. In the weeks after Trump's election, cameras caught members of the so-called "alt-right" throwing up the salute and declaring "Heil Trump" at a conference. The alt-right, a group associated with neo-Nazis and white supremacists, has been emboldened in recent months by the xenophobic campaign promises made by Trump last year. 
According to KPRC, the school principal sent home a letter to parents noting that the school is investigating the case of the "inappropriate gestures" and asking that parents discourage their kids from disseminating such images on social media "as this perpetuates a false image of Cy Ranch HS." 
"This is extremely disappointing as this is not an accurate representation of our student body," the letter noted.
Cypress Ranch High School did not immediately return requests for comment.