Here's what the Friday jobs report really shows about Trump's — and Obama's — presidency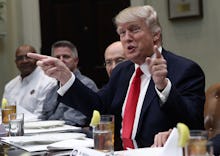 The United States economy added 227,000 jobs in January, leaving the overall unemployment rate little changed at 4.8%, according to the latest figures from the Department of Labor. 
Average hourly earnings rose 3 cents, putting wages up 2.5% for the year. 
Overall the report contained few surprises: Economists polled by Reuters had expected the unemployment rate to hold steady at 4.7%, near the nine-year low, and wage growth had also been expected to hold steady, according to CNNMoney. 
While unemployment was slightly higher than expected, as Ben Casselman noted on Twitter it ticked up for positive reasons: More people are looking for work. 
It's a pretty good report, not least because creating jobs in January is no easy feat: CNBC notes that the month tends to see the loss of about 4,000 jobs on average, whenever there is a new administration.
At the time of publication President Donald Trump had not addressed the report, spending the early morning sending out a series of tweets that had little to do with jobs: Notably the president gets a sneak peak of the figures the Thursday night before they're released.
For a president who's touted job creation as an almost singular priority, faster-than-expected job growth is bound to be a pretty irresistible talking point. 
There's a few possible reasons for the somewhat muted reaction. 
Trump was only president for about 11 days in January, leaving the question open of just how many of the new jobs he can really take credit for, and there's really little debating that he inherited a relatively healthy economy from his predecessor. 
To that end, the progressive Center for American Progress was quick to attribute the better-than-expected jobs numbers to Trump's predecessor.
Then there's the matter that Trump and some of his allies — including his treasury secretary pick Steve Mnuchin — have questioned the report's accuracy in the past, even though it is a widely accepted number whose formula has been in use for a century. 
To be fair, the unemployment readings can be imperfect — and in January seem to be particularly unreliable. In 2001, the initial reading was that the country had added 226,000 jobs when it had actually lost jobs, since the country was beginning to slide into recession.
Finally, it's also worth nothing that there are other ways to measure the unemployment rate — the Bureau of Labor Statistics actually publishes six different readings each month — all of which have sightly different ways of determining who counts as unemployed.
One claim that today's positive report does not support? Trump's arguments that the Affordable Care Act or Obamacare has been a job-killer.
Sign up for The Payoff — your weekly crash course on how to live your best financial life. Additionally, for all your burning money questions, check out Mic's credit, savings, career, investing and health care hubs for more information — that pays off.