Nordstrom is ending its relationship with Ivanka Trump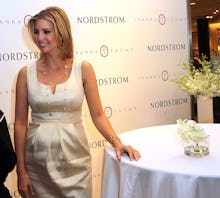 Nordstrom, Inc. is "winding down" its business relationship with first daughter Ivanka Trump, with whom the company has partnered since 2011, according to a Bloomberg story published Thursday.
"In this case, based on the brand's performance, we've decided not to buy it for this season," the company told the outlet.
Earlier that day, Business Insider reported Trump's name has "mysteriously disappeared" from the luxury department store's website, and explained that the store had been slowly rolling back the number of Ivanka Trump products — which includes women's apparel, shoes and accessories — for sale on its site for some time. 
"As recently as the first week of December, there were 71 different Ivanka Trump products available on Nordstrom's website, according to [Ivanka Trump boycott leader Shannon] Coulter," Business Insider wrote. "Last week, that number dropped to 26. On Wednesday, there were nine products available."
Indeed, at the time of this writing a search for "Ivanka Trump" on the website currently turns up four available products for sale at a discount.
Of course, poor sales is only part of the story: Since November, Nordstrom has been a top target of Coulter's Grab Your Wallet project, a boycott campaign encouraging consumers to avoid brands that maintain a relationship with Trump's father, President Donald Trump. Nine of the top 10 businesses the campaign currently lists earned their spot for carrying Ivanka Trump products. 
But ending the relationship wasn't always a foregone conclusion. On numerous occasions, both before Trump's presidential election upset and in a letter to employees in the weeks that followed, Nordstrom reaffirmed its commitment to carrying Ivanka Trump products. 
"We strive to be agnostic about politics and to treat all our customers with respect," Nordstrom wrote in an internal letter, according to Fortune.
Businesses and business leaders with ties to the Trump administration have been feeling the heat in recent days: On Thursday, Re/code reported that Uber CEO Travis Kalanick was stepping down from Trump's business advisory council following Trump's controversial executive order banning people from seven majority-Muslim countries from traveling to the U.S.
In an email published by Forbes, Kalanick explained his decision:
Earlier today I spoke briefly with the president about the immigration executive order and its issues for our community. I also let him know that I would not be able to participate on his economic council. Joining the group was not meant to be an endorsement of the president or his agenda but unfortunately it has been misinterpreted to be exactly that.
"I am absolutely thrilled, and I know the vast majority of Grab Your Wallet participants will be as well," Coulter told Bloomberg of Nordstrom's decision.
"Big news everyone," she later tweeted, linking to the Bloomberg story. "You did this. I am in awe."
Feb. 2, 2017, 11:05 p.m. This story has been updated. 
Sign up for The Payoff, your weekly crash course on how to live your best financial life. Additionally, for all your burning money questions, check out Mic's credit, savings, career, investing and health care hubs for more information — that pays off.