Trump just stumbled over his own hard line on Israeli settlements in the West Bank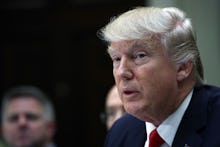 A statement sent out by the White House Thursday evening cautioned Israel against the construction of new settlements in the occupied Palestinian West Bank, claiming they "may not be helpful" for achieving lasting peace in the region.
The memo, from White House press secretary Sean Spicer, marked a sharp departure from then-President-elect Trump's attack on a U.N. Security Council resolution passed in December, which condemned such settlements.
"The resolution being considered at the United Nations Security Council regarding Israel should be vetoed," Trump said in a statement before the vote. "This puts Israel in a very poor negotiating position and is extremely unfair to all Israelis."
After the resolution passed, which the outgoing Obama administration allowed by abstaining and not using its Security Council veto, Trump tweeted: "As to the U.N., things will be different after Jan. 20th."
In recent weeks, Israel announced massive expansions of settlements in the West Bank, which the international community widely considers to be Palestinian territory occupied by the Jewish state.
In Thursday night's statement, which mentioned that Israeli Prime Minister Benjamin Netanyahu will visit the U.S. later this month, the White House appeared to take a more measured tone.
Below is the statement in full: 
The American desire for peace between the Israelis and the Palestinians has remained unchanged for 50 years. While we don't believe the existence of settlements is an impediment to peace, the construction of new settlements or the expansion of existing settlements beyond their current borders may not be helpful in achieving that goal. As the president has expressed many times, he hopes to achieve peace throughout the Middle East region. The Trump administration has not taken an official position on settlement activity and looks forward to continuing discussions, including with Prime Minister Netanyahu when he visits with President Trump later this month.