'Top Chef' Season 14 Spoilers: Who was eliminated in episode 10?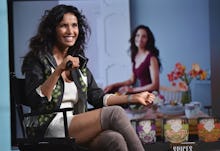 In previous seasons of Top Chef, a late-game double elimination was a rarity. But the introduction of sudden death Quickfire challenges — a latter-day invention for Bravo's hit cooking competition series — allowed this to become more frequent. The 13th season, set across the state of California, allowed for a double elimination when there were only five contestants remaining.
Top Chef: Charleston, the 14th season of Top Chef, similarly hosted a sudden death Quickfire when there were just six chefs left. Five of those were returning competitors from previous seasons, while one — Sylva Senat — remained the only rookie in the show's rookies vs. veterans season. Sylva, alongside veteran Shirley Chung, won their way out of the sudden death Quickfire, while season three veteran Casey Thompson got sent home.
Surviving the chopping block once wasn't good enough to save Sylva, however. The chef fell into the bottom of the elimination challenge with season 10 veterans John Tesar and Brooke Williamson, while Shirley won the challenge. Sylva, on the other hand, was made to pack his knives and go, leaving Top Chef with an all-veteran final four.
A Sylva fan might have hoped he had a chance to return to the competition through the show's spinoff web series Last Chance Kitchen, which allows the winner a chance to return to the main series' finale, but no dice. He and Casey competed with previously eliminated contestant Jamie Lynch. Unfortunately, only two could progress, and Sylva lost out to Casey and Jamie.
Which of those two will rejoin the main competition? And who is looking like a safe bet to win the whole enchilada? Fans will find out in the next few weeks; the next episode of Top Chef airs Thursday at 9 p.m. Eastern.