French soldier reportedly shoots man wielding knife near Louvre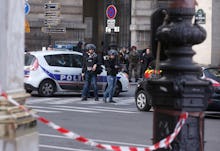 A French soldier opened fire on a man who tried to attack him near the Louvre museum on Friday, causing authorities to evacuate one of Paris' busiest tourist attractions. 
According to ABC News, the alleged attacker was "seriously injured" while the soldier sustained a "hit on the arm." The attacker had also been reportedly carrying two backpacks, which authorities determined contained no explosives.
The outlet later reported that a second person was arrested with possible connection to the attack, which Bernard Cazenueve, the French Minister of the Interior, has described as "terrorist in nature."
France's Ministry of the Interior tweeted that the soldier had discharged five bullets, "seriously injuring the attacker in the stomach."
In a subsequent tweet, the Ministry of the Interior quoted its spokesman Pierre Henry Brandet, who said that Friday's events were a "reminder that there is a threat present" in Paris, a city whose residents remember all too well November 2015's attacks. 
This story is developing and will be updated as more details become available.
Feb. 3, 2017, 6:32 a.m. Eastern: This story has been updated.