Iran answers Trump's ban with ban on US wrestlers traveling to Tehran world cup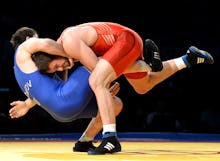 In response to President Donald Trump's executive order suspending visas from seven Muslim-majority countries including Iran, the country's foreign ministry has banned United States wrestlers competing in the Freestyle World Cup, which is to be held in Tehran this year.
According to the Associated Press, an Iranian news agency quoted foreign ministry spokesman Bahram Ghasemi as saying that a special committee had considered the case and eventually opposed the wrestlers' entry into the country.
The move follows Tuesday's announcement that Iran would no longer issue visas to U.S. citizens. 
At the time, Rich Bender, USA Wrestling's executive director, told the Wall Street Journal he was still "confident" the U.S. team would be able to attend the Freestyle World Cup in spite of the news.
Iran officials had threatened some kind of retribution for the ban that same day, calling Trump's executive order "an open affront against the Muslim world."
"While respecting the American people and distinguishing between them and the hostile policies of the U.S. government, Iran will implement the principle of reciprocity until the offensive U.S. limitations against Iranian nationals are lifted," read a statement from the foreign ministry, according to the Independent.
The statement went on to call Trump's apparent anti-Muslim restrictions a "great gift to extremists."
Wrestlers from Iran and the U.S. had previously participated at tournaments in each other's countries over a dozen times, according to the Associated Press, with the Freestyle World Cup being among the most prestigious of international wrestling competitions.
But for Iran, the only answer to Trump's stringent policies may just be "an eye for an eye."