Super Bowl 2017 start time, channel, livestream and more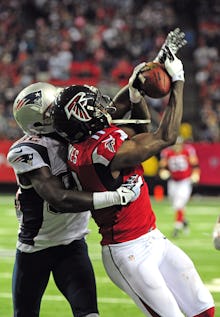 In what promises to be a high-scoring showdown, the New England Patriots will face off against the Atlanta Falcons on Sunday, Feb. 5, at NRG Stadium in Houston for Super Bowl 51. Here's what you need to know about Sunday's game.
Start and end times
The Super Bowl is scheduled to start with kickoff at 6:30 p.m. Eastern, so tune in a little earlier to catch the coin flip. The game will end around 10:30 p.m. Eastern, but we all know how unpredictable end times for football games can be.
Halftime show
The halftime show will likely start around 8 or 8:30 p.m. Eastern. Lady Gaga is slated to perform. Although it's not known which songs she will sing, there's suspicion she may be joined by Beyoncé, who recently announced she is pregnant with twins. Previous halftime performances, like Coldplay's and Katy Perry's, have lasted around 12 minutes — but the halftime break averages about half an hour in total.
Who's favored to win Super Bowl 51?
For those still reeling from Deflategate and Tom Brady's apparent support of President Donald Trump, it doesn't look good: The Patriots are favored to win against the Atlanta Falcons, securing their fifth Super Bowl trophy since 2002.
But don't turn that dial just yet — the Atlanta Falcons aren't likely to let the Patriots off with an easy win. The Falcons are ranked first in points scored, earning 33.8 points per game on average in the regular season, as USA Today notes, and their post-season total offense has dominated everyone. On total post-season defense, the Patriots are ranked fourth and the Falcons are ranked sixth, so there's a chance the Pats could lean on their defensive edge to hold back Atlanta's offensive line, but the teams' scores are close enough that this will very much be a game to watch.
How to watch the game
The Super Bowl will air on Fox with hours of pregame coverage to binge on before kickoff. If you can't find a TV, the game will be available for streaming through Fox Sports GO, which is available without a cable subscription on your tablet or other connected devices like Apple TV, Amazon Fire, Xbox One, or Roku. Cord cutters can also catch the game after midnight on NFL Game Pass, which also requires a subscription but offers a free seven day trial at sign-up.