Brandon Maxwell: "I do think we are seeing more diversity in fashion ... but still it's not enough"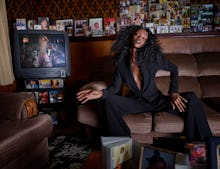 Designer Brandon Maxwell's eponymous brand is barely two years old and already he's dressed some of the biggest names out there, including Michelle Obama, Lady Gaga and Jennifer Lawrence. In 2016 alone he received the Fashion Group International Rising Star Award and the Council of Fashion Designer's of America (CFDA) Swarovski Award for Womenswear. 
And he shows no signs of fatigue. Currently Maxwell is in Houston, helping style Gaga for her highly anticipated Super Bowl halftime performance.
And with a meteoric rise comes stratospheric expectations.
"I actually used to be much more fearful than I am now," Maxwell said in an interview. "No success is possible without the hard work of many, and I choose now to focus on making those closest to me happy rather than trying to please everyone else. Everyone will always have opinions or ideas about what you should and shouldn't be, but I've found that if you're true to yourself and honest with who you are then that's the best way to sleep well at night."
Over the course of the three seasons he's thus far shown at New York Fashion Week, Maxwell has made a habit of celebrating New York City, hosting his runway shows at old-school Manhattan locales including Mr. Chow, Monkey Bar and the Russian Tea Room.
But for his Spring/Summer 2017 advertising campaign, Maxwell shifted his lens away from New York City over to Detroit, the hometown of his muse Riley Montana. Featured in the three image spread with Montana is her real-life family.
"As a designer I've always been inspired by the compassion, strength, power and beauty that is inside all women, regardless of age, skin color, shape or background," Maxwell said. "The campaign aims to promote a philosophy that I have always believed in, regardless of the political or cultural climate, that regardless of who you are or are not, where you came from or did not come from, you matter. Anything is possible for you through love and hard work."
Asked if he thinks the myriad conversations surrounding representation in fashion will see any noticeable shifts in 2017, Maxwell is mostly confident.
"I do think we are seeing more diversity in fashion ... but still it's not enough," he said. "My goal in our shows and in any of our brand visuals is always to represent a world that is round, diverse, loving and accepting, and to do so by way of telling a human story. The most impactful way to begin to implement change is to constantly, responsibly contribute to the narrative."
Maxwell joins other fashion notables including Naomi Campbell and Iskra Lawrence in using their spotlight to address fashion's shortcomings while doing their part to impact change. 
With New York Fashion Week around the corner, time will soon tell whether or not fashion's biggest stage can bounce back from a slight dip in diversity seen in September.