Super Bowl Commercials 2017: Here is every ad that has been released so far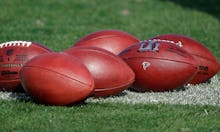 One of the greater joys of Super Bowl Sunday has little to do with what happens on the field, but what's aired during commercial breaks. While TV advertisements can be a drag at any other time of the year, the Super Bowl is the one event where they are as exciting as the show itself. 
From Budweiser to T-Mobile, here are all the commercials — released so far — in anticipation of the game, which airs on CBS Sunday, Feb. 5 at 6:30 p.m. Eastern. 
Audi
Avocados From Mexico
Budweiser
Bud Light
Buick
Busch
Febreze
FIJI Water
Ford
Honda
Intel
Kia
King's Hawaiian
Lexus
LIFEWTR
McDonald's
Mercedes-Benz
Michelob Ultra
Mr. Clean
Nintendo
Skittles
Sprint
Tide
T-Mobile
Top Games
Wix
Wonderful Pistachios 
84 Lumber
Mic has ongoing coverage on Super Bowl 51. For more stories relating to the sporting event, you can head to our main hub over here.