Frank Ocean's father sues him for defamation — one more injury in their fraught relationship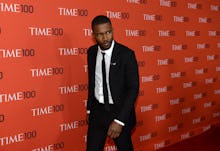 Somehow, during his career-defining 2016, Frank Ocean managed to duck a lawsuit from Universal Music Group for deftly slipping out of his contract when his album Blonde dropped — but it seems he couldn't avoid one from his own father, Calvin Cooksey. According to reports from TMZ, Ocean's father is reportedly suing his son for defamation stemming from a 2016 Tumblr post.
Following the shooting at Orlando nightclub Pulse, Ocean penned a response on Tumblr reflecting on the homophobia he'd seen throughout his life. He cited an instance involving his father and a transgender waitress:
I was 6 years old when I heard my dad call our transgender waitress a faggot as he dragged me out a neighborhood diner saying we wouldn't be served because she was dirty. That was the last afternoon I saw my father and the first time I heard that word, I think, although it wouldn't shock me if it wasn't. Many hate us and wish we didn't exist. 
According to TMZ, Cooksey claims the story to be false and says the mention has hurt his ability to find work in the film and music industries. He's now suing his son for $14.5 million in damages. It's the latest in a long line of discouraging turns in Ocean and Cooksey's relationship. 
The relationship first became strained when Cooksey left Ocean "without explanation" when the singer was 6, as the New York Times wrote in 2013. According to the outlet, Ocean described his father as "a failed musician who 'went crazy' and made questionable hairstyle choices." Success seems to have only create more division between them.
Friday's news is hardly the first time Cooksey has made an attempt to get money from his son. The 2013 Times profile points out that Ocean once "tweeted, then rapidly deleted, a message about his father's suing him for $1 million." He refused to go into any more detail in conversation.
The text of those tweets, according to the Guardian: 
Father wanna sue me for a million. Like i owe him back child support. Weak individual bought me a Swiss knife at 6 years old then dipped on me … I got his DNA though, maybe I inherited some of his karma too.
Cooksey also once tried to sue hip-hop star Russell Simmons for libel to the amount of $142 million because his news organization, Global Grind, failed to fact check a story, which alluded to Cooksey being a "deadbeat dad." Part of Cooksey's defense claimed that the reason he wasn't able to be involved in his son's life was because his "money grubbing mother" hid Ocean from him, according to TMZ.
In a 2012 GQ article, Ocean shared that he hasn't seen Cooksey since he was 6 and that his maternal grandfather was his "paternal figure." 
"He'd had a really troubled life with crack, heroin, and alcohol and had kids he wasn't an ideal parent to," Ocean said. "I was his second chance, and he gave it his best shot. My grandfather was smart and had a whole lot of pride."
Ocean illuminates his feelings surrounding his father and grandfather in his Nostalgia Ultra song "There Will Be Tears." The singer tries to find kinship with all those who managed to become successful without fathers to guide them: 
Hide my face, hide my face, can't let 'em see me cryingCause these boys didn't have no fathers neitherAnd they weren't crying, my friend said it wasn't so badYou can't miss what you ain't had, well I can, I'm sad
There's been no word from Ocean on how he's taking his father's new re-entry into his life. With $14 million on the line, it's likely not with open arms.
Mic has reached out to Ocean's team for comment and will update if we hear a response.