9 Big Sean 'I Decided' lyrics that offer the wisdom of a man who is living life twice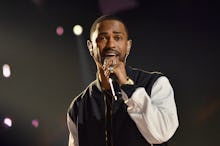 Big Sean is our own hip-hop life coach, dropping bars and major gems on I Decided, his fourth solo album, released Friday.
The 14-track opus opens with a dramatic skit: Sean is an older man having a wake up call about life and speaks to God about his regrets. "I've been doing the same thing in the same place, working the same job for 45 years," he laments. At the end of the skit, his voice is drowned out by the sound of an oncoming car collision, which gives us the feeling that his time is up to live his deepest desires.
But on I Decided, Sean has a second chance to live his best life, while the older version of him time travels to guide him through it. 
"Sometimes I do feel like I got to the end of my life and failed at everything: Failed at love, failed at career, failed at personal dreams," the Don told the Daily Show's Trevor Noah in January. "Somehow, I got a chance to go back in time and get it all right. So that's kind of the story of the album."
For those who follow Sean's career closely, this philosophical trip he's taking may not be a surprise. He once had a life coach help him transition to fame and he told XO Necole in 2013 that he regularly reads self-help books.
"I read Ask and It Is Given by Esther and Jerry Hicks. I read The Seven Spiritual Laws of Success by Deepak Chopra, I read The Alchemist. And these are books I read a few times a year. And it just always gets my mind set right back where it needs to be," he explained. 
Yes, Sean gets spiritual on the album, but he's not too preachy, reading as an open book when it comes to career and relationship frustrations. On "No Favors," featuring Eminem, he takes a jab at artists who bit his supa dupa flow style of rapping. He's also going through the motions of a failed relationship on "Owe Me," but has moved on, name dropping his current girlfriend and fellow Twenty88 collaborator Jhené Aiko on "Sunday Morning Jetpack."
Sean also shows growth in his messages on I Decided and has no issue getting political. For instance, not only did he run a successful fundraiser to help with the Flint water crisis, but he drew further attention to the town, which is 70 miles outside his hometown of Detroit, by featuring the Flint Chozen Choir on his final track "Bigger Than Me." 
He also makes references to his racial identity and experiences as a black person in America on several tracks, such as on "Light" where he raps that his dad's from a small town in Louisiana, "Where if they know you brown, they might hold you down/And even hose you down." 
All of Sean's introspective wanderings are rapped to a backdrop of moody trap and soulful beats provided by an array of producers including Metro Boomin, WondaGurl and Amaire Johnson.
Dig deeper into nine of Sean's wisest lyrics and moments on I Decided, via Genius, below:
1. "And realized counting money never feel as good as counting blessings/And a loaded mind is more dangerous than a loaded weapon."
— "Light" feat. Jeremih
Although Sean has had his name in lights for years, he's understood that there is a limit to the happiness money can bring him. On top of that, the power of knowledge is his greatest tool. This line sets the tone for all of the wisdom Sean delivers on the album.
2. "Niggas change up more than wishin' wells/Karma come around I'll wish 'em well."
— "Bounce Back"
On the road to success, enemies are inevitable, but Sean understands that revenge on his part is unnecessary because karma will take care of that for him.
3. "I've been talking to God like that's my therapist/I'm African-American in America/I ain't inherit shit but a millionaire under 30/So He must be hearin' shit."
— "No Favors" feat. Eminem
Sean does not take for granted the privilege he's obtained. The socio-economic factors he's faced doesn't come with trust funds, so he attributes his new money to God answering his countless prayers.
4. "I realized when it comes to girls/That chemistry means way more than anatomy"
— "Halfway Off the Balcony"
At 28, Sean has had his share of dating experiences, especially with other famous women, and his biggest takeaway is that looks aren't everything. 
5. "Stick to the plan, stay focused/Pay attention who you getting close with/Distance yourself from negative energy/Voices in my head, they say it's meant for me."
— "Voices in My Head/Stick to the Plan"
This track gives an inside view of what goes through Sean's mind. As much success as he's seen, the rapper knows that his biggest motivation comes from within himself and he can't ever lose sight of that. 
6. "Ain't been to church in awhile/But it ain't just about how you just praise him in the building/It's about how you praisin' him while you out."
— "Sunday Morning Jetpack" feat. the Dream
On this track he reminisces on how special Sunday mornings were to him and his family. He was brought up in church, and although he no longer attends regularly, those lessons on faith haven't left him.
7. "Look, mama, you know you inspire me/If I ever made you not feel like it, then this is my apology."
— "Inspire Me"
Throughout the record, there are skits where Sean dodges calls from his mother. He finally picks up the phone and the album cuts to "Inspire Me," dedicated to his dear mother. Sean apologizes for his lack of communication and lets us know that family first is part of his value system.
8. "I know my great, great, great aunty was a slave/I could only imagine all the sacrifice she made/I could only imagine all the shit she had to take/I'mma make sure all the blood she gave wasn't in vain."
— "Sacrifices" feat. Migos
Sean is aware that he is his ancestors' wildest dream and refuses to let them down. His success isn't only about the sacrifices he's made, but the sacrifices those before him made as well. 
9. "I seen people in the same place 10 years later/Man that shit pathetic/God talking to me telepathic like it only happen if you let it."
— "Bigger Than Me" feat. Flint Chozen Choir
Sean has lived long enough to see that a decade can go by super fast, and if you don't use the time wisely, stagnation can be the result. Sean rapped that God tells him the choice is yours to make.
Mic has ongoing Big Sean coverage. Please follow our main Big Sean hub here.