Ivanka Trump's underperforming clothing line dropped by Nordstrom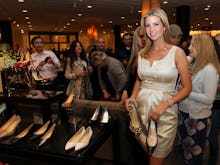 Despite Ivanka Trump appearing to be having a grand ol' time as a member of America's new first family, her clothing line hasn't been doing so well. 
First she was accused of ripping off another designer's shoe design. Then her scarves, which were found to be manufactured in China, were catching on fire. Then a viral campaign — #GrabYourWallet — pushed swarms of people to vow to never buy a product from a Trump family member. And now, perhaps as a result of that, Nordstrom is dropping Ivanka Trump's entire clothing line. 
In news broken by Racked on Thursday, Nordstrom will no longer sell items from Ivanka Trump's clothing line. 
Currently on Nordstrom.com, there are just four Ivanka Trump shoes for sale, all at a discount, and that's apparently the last we'll see of her on the mega-retailer's site for a while. 
According to a Nordstrom spokesperson, the company is cutting ties due to poor sale performance.
"We've said all along we make buying decisions based on performance," a spokesperson said via email.  "We've got thousands of brands – more than 2,000 offered on the site alone. Reviewing their merit and making edits is part of the regular rhythm of our business. Each year we cut about 10% and refresh our assortment with about the same amount. In this case, based on the brand's performance we've decided not to buy it for this season."
Although Nordstrom didn't cite the boycott for this poor sales performance, it very well could be that #GrabYourWallet had an impact. It has, after all, been in effect since October, and thousands of have voiced their support online of not just boycotting the family's merchandise but also the stores from which they are sold. 
One of #GrabYourWallet's founders, Shannon Coulter, told Racked early on Thursday that the number of Trump items sold by Nordstrom has been quickly ticking down these past few months. According to her calculations: "From December 2nd to December 27th, the number dropped from 71 products to 48. As of January 11th, Nordstrom was selling 43 products, but by January 29th, it was down to 26." 
And now there are just four. 
Already on Twitter though, Nordstrom is assuring its customers that this is not a politically motivated decision, nor is it necessarily permanent. 
Next season, Nordstrom could pick up Ivanka Trump clothing and accessories again. But with President Donald Trump dealing with historically low approval ratings, and daily outrages involving things like Holocaust denial, would that be a good idea? 
Mic has reached out to Nordstrom and Ivanka Trump for comment.