'Fire Emblem Heroes' Name Change: How to get a new nickname on Android or iOS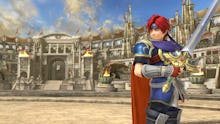 Nintendo's second real mobile game is finally here in Fire Emblem Heroes — sorry, Miitomo doesn't count. However, before you start buying orbs to summon all your favorite anime hunks, you might be wondering how to change your nickname in the game. It's actually pretty simple.
Fire Emblem Heroes name change: how to change your nickname in the game
First, tap the "misc." button in the lower right corner of the screen. Once you do that, you'll see a big, green "FAQ/etc." button sticking out like a sore thumb near the bottom of the screen. 
Tap that and you'll see a variety of miscellaneous menu choices. Partway down the list is one that says "change nickname." That's the one you want to tap to change your nickname, believe it or not.
Nintendo has a habit of making things more difficult than they need to be (why does this game still have friend codes?), but this one thing is actually simple and easy to find. Now pick your best nickname and summon to your heart's content.
More video game news and updates
Hungry for more video game news? Check out the latest from Mic, including a recap of the Halo Wars 2 beta, a breakdown of the latest Diablo 3 update, the newest roster addition to Injustice 2 and a closer look at the Pokémon Go Red Scale rumor.