'Big Little Lies' Review: Reese Witherspoon is a perfect fit for HBO's suburban mom drama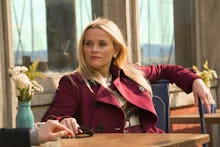 Praise be the Reesurgence. After years of toiling in the land of garbage films like This Means War and Four Christmases, Oscar-winning actress Reese Witherspoon took control of her own narrative. She put more steam into producing, building herself substantial films like Wild, and throwing her weight behind other acclaimed projects like Gone Girl. Sure, she still makes a clunker or two (hello, Hot Pursuit), but Witherspoon is firmly in her prime.
The latest project in the Reesurgence is Big Little Lies, a Witherspoon-produced miniseries adaptation of the Liane Moriarty novel of the same name. Debuting on HBO in February, Big Little Lies puts Witherspoon in protagonist Madeline Martha McKenzie's shoes. A suburban mom with both bubble and bite to spare, Madeline is the perfect role for Witherspoon. 
Surrounded by an all-star cast that includes Nicole Kidman, Shailene Woodley, Zoë Kravitz and Laura Dern, Witherspoon makes the miniseries one of 2017's first great TV shows.
Big Little Lies, written by The Practice's David E. Kelly and directed by Wild helmer Jean-Marc Vallée, has all the hallmarks of a prestige TV series — murder mystery plot slowly revealing itself, fairly explicit sex scenes, violence and a tangled web of characters — except for one. Instead of being dominated by difficult male antiheroes, à la Mad Men or Breaking Bad, Big Little Lies is all about its female protagonists and antagonists.
Woodley plays Jane Chapman, a new, young mom who moves to Monterey, California, with her young son Ziggy. After helping Madeline in a moment of need, the blond, type-A mom befriends her and introduces her to fellow friend Celeste Wright (Kidman). The moms attend first-grade orientation with their kids at Otter Bay Elementary School, but Ziggy soon makes an enemy in Amabella, daughter of Silicon Valley power player Renata Klein (Dern).
Battle lines are soon drawn, leading eventually to a homicide that we get slim details about in flash-forwards thanks to a deliciously bitchy Greek chorus of other Otter Bay parents being questioned by police. Their interjections into the story are the perfect mixture of carpool gossip and reality-TV confessionals. Sometimes, their observations are right on the money. Other times, they're just spewing shit.
But they frame the story of these five women — the fifth being Madeline's ex-husband's new partner, Bonnie, played by Kravitz — quite fittingly. You quickly get the sense that, until the murder, this was all just the latest drama parents dished about over wine while the kids played in the backyard.
Witherspoon was previously turned town to play Amy Dunne in Gone Girl, with director David Fincher saying she was wrong for the role. Watching Big Little Lies, you can see why Fincher was right. The warmth Witherspoon imbues Madeline with isn't a put-on; unlike Amy, Madeline truly cares for people. She's just also a bit theatrical, performing the drama of the day expertly. (Not coincidentally, she works at a local theater company.)
It's her best work since Wild, maybe since Legally Blonde, and calls to memory her iconic portrayal of Tracy Flick in Election. She's best when acting opposite her Wild co-star Dern, who is just incredible as Renata. Dern is equally adept at playing the character's quiet moments — reflecting on her insecurities with a glass of wine in tow — as she is in the big ones. In the series' second episode, she unleashes a scream of rage that is as terrifying as it is GIF-worthy.
The mystery in Big Little Lies is compelling, yes, but the cast of characters is the reason to watch. Kidman is icy perfection; Woodley and Kravitz are both charming, if less impressive than the more veteran performers. The cast of supporting men, especially Parks & Recreation's Adam Scott as Madeline's second husband, is also strong.
This series is all about the women, though, and they deliver on all fronts. The Reesurgence has brought us another stellar entry in Witherspoon's golden era. Cross your fingers, because it marks only the beginning for her.
Big Little Lies premieres Sunday, Feb. 19 at 9 p.m. Eastern. Watch the trailer below.