Ivanka, Nordstrom and Uber all seem to prove one point: boycotts work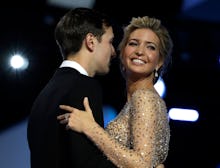 On Thursday, Racked broke the news that Nordstrom would no longer sell items from Ivanka Trump's clothing line. The decision was reportedly due to the line's low sales — "[Based] on the brand's performance we've decided not to buy it for this season," the retail giant said — but there was also speculation that recent boycotts had something to do with it.
President Donald Trump's misogynistic, racist and xenophobic rhetoric has left almost as big a stain on his family as it has on him. And in some cases, it's hurt their businesses. Ivanka stumped regularly for her dad, and eventually became one of his most appealing, high-profile supporters. But in October, fed up consumers replied with #GrabYourWallet — a boycott aimed at draining Ivanka's pocketbook by refusing to buy her products.
Boycotts have emerged as one of the few effective recourses Americans have to combat their new president and his cronies in recent months. In the absence of steady resistance to Trump's agenda from Democrats in Congress, progressive buyers have still been able to send a clear message to entities that support the president: If you back a bigot, it's going to cost you.
The soft power of social shame remains a useful weapon. Even as those who share Trump's bigotry are emboldened by his win, the anti-Trump majority's power to shame them out of public life is key to reminding them that their views are still unacceptable.
So far, they've had some success. While Trump himself seems immune to such shame at times, the same can't be said of everyone around him. 
The ride-sharing app Uber came under fire for undermining a New York City taxi workers strike against Trump's immigration ban last week, causing a swarm of users to delete their accounts in protest. CEO Travis Kalanick apologized, promised to drop $3 million on a legal-defense team to support the drivers impacted and stepped down from his position on Trump's advisory council.
"Joining the [council] was not meant to be an endorsement of the President or his agenda but unfortunately it has been misinterpreted to be exactly that," Kalanick told employees in an email.
In Ivanka's case, poor brand performance at Nordstrom seems to have at least partly prompted her product's floundering sales. While Ivanka herself has yet to make an outward mea culpa in the Kalanick mold, the high-profile dumping of her line from such a major retailer — and in the wake of a months-long boycott — is tough to ignore.
Of course, boycotts are no substitute for concentrated grassroots organizing, mass protests, intense pressure on elected officials or, better yet, an overhaul of our entire political system. Nor are they accessible to everyone — the ability to withhold money from a company hinges on having that money to begin with. But they are an important supplement to these efforts. If Trump's inner circle responds to anything, it's financial incentives. The relative successes of the Uber boycott and #GrabYourWallet show there's power in collective action. These people need to be shown that bigotry isn't lucrative. Dissenters must continue to make them pay.