Sorry, most of the 2017 Puppy Bowl puppies have already been adopted.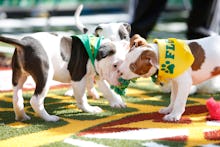 This weekend fans will have the opportunity to tune into one of the most exciting events of the year. What? No, not the Super Bowl — the Puppy Bowl. 
With Fox broadcasting the Super Bowl to what will likely be over 100 million people, other networks have the difficult task of offering engaging counter-programming. While the Puppy Bowl does not attract quite the same number of viewers as the Super Bowl, millions still tune in to watch some adorable canines. Last year, almost 10 million people tuned in for Animal Planet's 12-hour marathon event. But many viewers don't just want to watch the pups on the field — they want to take them home.
Well, we have good news and bad news. Every puppy in the 2017 Puppy Bowl is from a pet shelter and adoptable. However, a press coordinator for Animal Planet confirmed in a call that many of the puppies "competing" in the Puppy Bowl have already been adopted. 
Doobert is one of the feel good stories from the upcoming Puppy Bowl. The English Pointer is hearing-impaired and ended up at the Green Dogs Unleashed shelter in Virginia. He now has a forever home, as well as four fur siblings to keep him company. According to Today, Winston, a sight and hearing-impaired Australian Shepherd, and Lucky, a three-legged Terrier mix, are two other disabled Puppy Bowl players that have been adopted.
So, while you shouldn't get too attached to the players — check out how cute Alexander Hamilpup, Parfait and Tucker are —  you can head to your local shelter to offer a home to a dog in need. You can find the complete list of shelters that provided pets for the Puppy Bowl on Animal Planet's website here.
The Puppy Bowl will take place on Sunday, Feb. 5 at 3 p.m. Eastern on Animal Planet.