What time is the 2017 Kitten Bowl? Start time, channel and more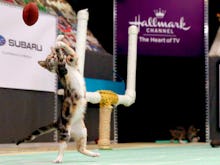 The Kitten Bowl is bringing its "cat-letes" to the Hallmark Channel on Sunday, Feb. 5 for anyone who'd rather see felines tackle each other than men. For a Super Bowl alternative, watch teams of kitty-cats — The Last Hope Lions, Boomer's Bobcats, The Home & Family Felines and The Northshore Bengals — go head to head in a modified version of football.  
Here's what you need to know about this adorable competition. 
Time, channel and more
The 2017 Kitten Bowl will begin at 12 p.m. Eastern on the Hallmark Channel. Beth Stern will host once again, with regulars Boomer Esiason, John Sterling and Mary Carillo joining her.
The show isn't just meant to be fun. It's also meant to raise awareness about animal adoption. The North Shore Animal League America and Last Hope Animal Rescue and Rehabilitation have provided adoptable kittens for the show. Though, according to Newsday, all of the cats have been already been adopted in the pre-recorded show. 
If you're curious about this year's players, you can view their "trading cards" on the Hallmark website. The website also has a trading card creator so you can make and download a trading card for your favorite furry friend at home.
This year the show will feature Kitten Bowl 360 for a unique virtual reality experience.
Not a big fan of cats? The 2017 Puppy Bowl will begin later that day at 3 p.m. Eastern on Animal Planet.