What is the fiduciary rule? Trump to block retirement financial protection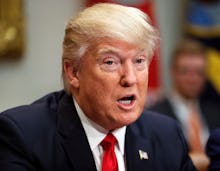 President Donald Trump on Friday is expected to block the implementation of a regulation enacted by former President Barack Obama that requires retirement advisers to work in the best interest of their client.
The so-called fiduciary rule, which was set to take effect in April, is among several financial regulations Trump is expected to kill or dramatically scale back. He is also expected to sign an executive order curtailing the Dodd-Frank Act, which was signed into law in 2010 in response to the 2008 financial crisis. 
Gary Cohn, a former president of Goldman Sachs and current White House Economic Council director, said Thursday night that the order was a "table setter for a bunch of stuff that is coming."
What is the fiduciary rule?
The regulation, backed by former President Barack Obama in 2015, would force financial advisers to adhere to a fiduciary standard in providing counsel on retirement investments. This would require advisers to act only in a client's best interest – rather than providing a client with advice that is appropriate, but not necessarily most advantageous to the person.
The Obama administration championed the regulation as a necessary protection for consumers and a safeguard against advisers' conflicts-of-interest. 
But industry groups, backed by Republicans, complained that the rule was unnecessary and that it would lead to a drop in profits for financial advisers and higher fees for clients.
"We think that this was a complete miss on what they were trying to do," a senior White House official told Time. "It has taken away a huge variety of investment options for individual investors."