Fayetteville, Arkansas, hung a Black History Month banner declaring "Black Lives Matter"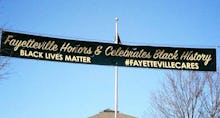 On Thursday, a tweet depicting a Black History Month banner hanging in Fayetteville, Arkansas, went viral to the tune of almost 30,000 retweets in about 24 hours. 
"My 80-percent-white hometown in Arkansas is flying a Black Lives Matter banner downtown," Sam Eifling, an editor at Thrillist, wrote in his tweet. "Your move, literally everywhere else." 
According to the latest US Census numbers, Fayetteville is, in fact, about 80% white. And, according to Susan Norton, communications director for the city of Fayetteville, the banner is hanging on Dickson Street, the city's main drag. 
"Fayetteville does honor and respect, deliberately and intentionally, all people," Norton said in a phone interview. "We celebrate black history, LGBTQ people, we celebrate new Americans, we celebrate immigrants." 
Norton also said the town is an officially designated "compassionate city" and that the same group that worked to get that status, Compassion Fayetteville, put up the banner. 
According to the Arkansas Times, the banner appeared in Fayetteville last year but only gained traction this year on social media. D'Andre Jones, who heads Compassion Fayetteville's Black Lives Matter team, told the Times the banner is important given the current political climate. 
"Now more than ever," Jones said, "it's very important that we all stand together and affirm that all lives matter." 
Norton said the banner is more a "call to action" than an actual endorsement of any specific group like Black Lives Matter. She also said the city has received only a few negative phone calls, but that they have received many phone calls from the town's residents thanking them for celebrating Black History Month and standing up for black lives. 
Fayetteville is not the only town to experience blowback for saying "black lives matter." In September, the University of Vermont came under fire for waving a banner with the words Black Lives Matter on it. 
Fayetteville is winning Black History Month while more and more people are just getting it wrong. Rather than celebrating the work of a black American, Vice President Mike Pence began the month by lauding Abraham Lincoln. With a dearth of living black people to celebrate, President Donald Trump and his press secretary both heaped praise on Frederick Douglass, who they may think is still alive.