You can donate to the ACLU this weekend simply by drinking coffee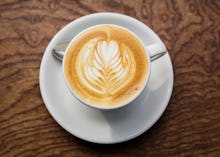 If you need to fuel up for this weekend's impending round of protests, or just want to add a little activism to your weekend coffee routine, this nationwide fundraiser is here to help. 
Sprudge, a coffee blog best known for its coffee culture articles and coffee product reviews has launched a #RefugeesWelcome #YesEqual campaign, using coffee as the vehicle that unites as all to support the cause.
From Friday, Feb. 3 through Sunday, Feb. 5, Sprudge has partnered with coffee shops across America to help raise funds for the American Civil Liberties Union. 
On Saturday, in the wake of President Donald Trump's ban on immigration from seven Muslim-majority countries, the ACLU took the Trump administration to court over the discriminatory policy — and won! As a result, the organization raked in a record-breaking $24.1 million in donations over the weekend, over six times more than the organization's annual online donation average of $4 million. 
Sprudge's fundraiser originally started out as a partnership with 26 partner brands like Blue Bottle Coffee, Intelligentsia, La Colombe, Joe Coffee, Stumptown Coffee Roasters and other well-known cafés, but as word got out, additional national and local coffee shops jumped at the opportunity to donate weekend proceeds to the ACLU. 
Now, 278 brands, which operate 530 cafes across America, will be participating in the weekend fundraiser, offering coffee drinkers from Hawaii to Wisconsin to North Carolina and pretty much everywhere in between to give back by drinking an extra latte this weekend. See the full list of participating coffeeshops at Sprudge. 
The amount each cafe donates is up to its owner (they may donate a percentage of each sale or set up a tip jar dedicated to ACLU funds), but Sprudge is matching the first $500 in donations per company for 26 companies, and is still looking for corporate partners to match additional donations. Coffee shops not yet participating can also join in on the fundraising efforts by registering on Sprudge's website.
Sprudge and its coffee partners aren't the only consumer-facing companies to give back to the ACLU this week. Lyft pledged $1 million to the ACLU on Sunday after #DeleteUber started trending during the airport strikes. 
And this isn't the first time coffee has been used as an activist tool during Trump's presidency. On Monday, Starbucks announced that it will hire 10,000 refugees in response to Trump's Muslim ban. 
Breaking Bread NYC has also curated a list of New York restaurants serving cuisines of countries impacted by the travel ban, accessible for a $10 donation, which will go to the Council on American-Islamic Relations.
In Trump's America, even daily activities are becoming politicized, with brand allegiances and company policies swaying how and where we should spend our money to support our beliefs.