Donald Trump — still quiet on Quebec mosque shooting — tweets about thwarted Louvre attack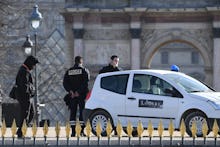 President Donald Trump is being called a hypocrite for tweeting Friday about a thwarted attack on a French soldier at the Louvre Museum — while remaining silent on the Sunday terrorist attack at a Quebec City mosque that left six people dead.
Just a few hours after the Paris attack occurred, Trump responded with a tweet:  "A new radical Islamic terrorist has just attacked in Louvre Museum in Paris. Tourists were locked down. France on edge again. GET SMART U.S."
Meanwhile, Trump tweeted no such angry response in the hours after the Quebec City mosque shooting, where an alleged white nationalist and Trump fan killed six Muslims during evening prayers. The seeming hypocrisy has drawn significant ire, with some on Twitter suggesting Trump only tweeted about the Louvre incident to justify his so-called "Muslim ban."
Speaking of attempts to justify Trump's executive order on immigration, Kellyanne Conway is under fire after a Thursday night interview on MSNBC, where she referenced a "Bowling Green Massacre" carried out by two Iraqi refugees. The only problem? It never happened.