'Fire Emblem Heroes' Stars: How to upgrade your characters to five stars in the game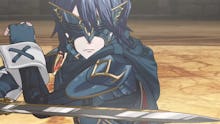 If you've gotten started on Nintendo's latest mobile game, Fire Emblem Heroes, you're probably wondering how to fill out and upgrade your elite squad of beautiful anime warriors. If you haven't summoned new characters with the 10 orbs the game gives you for connecting your Nintendo Account, go ahead and do that with the "summon" button on the bottom of the screen.
Once you've done that, you're probably wondering what those stars mean and if you can upgrade characters from one star rating to another. Here's what you need to know about stars in Fire Emblem Heroes.
Fire Emblem Heroes stars: tips for upgrading
As you might expect, the star rating attached to a hero determines how effective they will be in battle. Characters can range from one to five stars. However, characters won't come with the same star rating every time. Lucina can be a three-star character or a five-star character, for example. It depends on how lucky you get while summoning.
If you summon a lowly three-star Marth, don't worry. You can actually upgrade characters' star ratings. If you go to the "allies" menu on the home screen and select "advanced growth," you can use the "unlock potential" feature to increase star rating. For characters in the one to three star range, you'll need Hero Feathers to upgrade them. To upgrade four star characters, you'll need Hero Feathers and Great Badges, which you can get in the Sixth Stratum or the Training Tower. These characters also need to be at least level 20 to be upgraded.
More Nintendo news and updates
Hungry for more Nintendo news? Check out more details on the new Nintendo Switch console, including information on its price, release date, pre-orders and battery life. If you're interested in the Nintendo Switch's games, here's info on the new Super Mario Odyssey game, Legend of Zelda: Breath of the Wild, Splatoon 2, Xenoblade Chronicles 2, 1-2-Switch and the goofy boxing game Arms.