Why some Republicans went from "repeal" to "repair" on the Affordable Care Act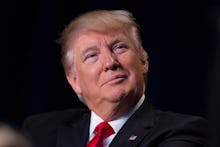 Can you tell the difference? Congressional Republicans seamlessly rolled out a pivot on Thursday that could signal a major shift in how they will approach health care reform. The longtime GOP mantra for the Affordable Care Act was "repeal and replace." Now, the same Republican leaders are using the term "repair" to describe their approach to the health care law.
The shift happened for a few reasons: Because Republicans do not have 60 votes in the Senate, they cannot repeal every word of the health care law. It also recognizes, from a policy standpoint, that a wholesale repeal may not be possible. Republicans have struggled to present a plan to preserve access to coverage for millions of Americans who gained it under the ACA, especially those with lower incomes. 
Here's the money quote from Sen. Lamar Alexander of Tennessee: "I think of it as a collapsing bridge. ... You send in a rescue team and you go to work to repair it so that nobody else is hurt by it and you start to build a new bridge, and only when that new bridge is complete, people can drive safely across it, do you close the old bridge."
But there's much more to this than doing the right thing for American health care: Messaging is equally important. Last week, GOP pollster and strategist Frank Luntz advised Republicans to use the word "repair" instead of "replace," offering a less partisan but still actionable term. Because the GOP spent years promising supporters they would destroy Obamacare — they voted to defund and repeal it more than 50 times — Republican lawmakers must now send a message they are taking action on improving the Affordable Care Act.
House Speaker Paul Ryan says a "repair" still requires repealing and replacing the law. But Rep. Greg Walden, the chairman of the House Energy and Commerce Committee, said there is no "mega-bill" in the works to replace the law. "We're looking at fixing this mess a brick at a time," he said. "Piece by piece. Taking our time to get it right."
Repair, not replace.
This is Mic's daily read on Donald Trump's America — and how it affects you. Welcome to the political newsletter that may need to be repaired, but never replaced. Want to receive this as a daily email in your inbox? Subscribe here.
Protests and walkouts
Thursday brought more anti-Trump demonstrations. The two largest were in New York City and Philadelphia.
At noon on Thursday, an estimated 1,000 bakeries, bodegas and other businesses owned by Yemeni-Americans in New York closed to protest Trump's executive order on immigration. Yemen is one of the seven countries hit with a travel ban as part of the order that temporarily shut down the American refugee program. "[Yemenis] are not the people they speak about in the media," convenience store owner Fahd Alfakih said to Mic. "We are going to show up today and show who we are."
In Philadelphia, Comcast employees walked out of work to protest Trump's immigration order. The company did not publicly back the demonstration but allowed workers to take paid leave to attend the protests. (USA Today) 
Other Comcast rallies happened in Washington, D.C., and Sunnyvale, California.
This weekend, a march and protest is planned near Trump's Mar-a-Lago resort in West Palm Beach, Florida. (Palm Beach Post) 
Organizers expect 2,000 people to participate.
Israel, Iran, Dodd-Frank and more from the White House
Only a few weeks after establishing himself as staunchly pro-Israel, Trump warned the nation to stop building settlements in the West Bank because it "may not be helpful." (NBC News) 
Israel hit back softly on Friday, saying, "The White House itself holds that the settlements are not an obstacle to peace and they never have been. It must be concluded therefore that expansion of construction is not the problem."
The break between Trump and Benjamin Netanyahu, Israel's pro-settlement leader, came the same day the White House took an even firmer position with Iran. Trump is looking at instituting new sanctions on the Iranians in the wake of ballistic missile tests. (NBC News) 
Notably, the sanctions would not break the terms of the Iran nuclear deal — a treaty that slowed Iran's nuclear development in exchange for lessened sanctions. This comes as Iran banned U.S. wrestlers from traveling to the country after Trump banned travel from Iran last week. (ABC News) 
To cap it off, Trump tweeted Friday morning that by messing with him, Iran is "playing with fire."
A Dodd-Frank repeal? The cornerstone financial regulation of Obama's presidency is under attack. Following the collapse of bad mortgages, the housing industry and the financial crisis, Congress passed the Dodd-Frank Act to watch large U.S. banks more closely. The law aimed to prevent Wall Street from taking risky bets that could cripple the U.S. economy and force the federal government to bail out large banks. (Go watch The Big Short.) Liberals like Vermont Sen. Bernie Sanders argue it did not go far enough. But Republicans have long decried it as overly burdensome regulation.
America may now get another chance to experience a pre-2008 world of finance. Trump is expected to sign orders that will begin a process of rolling back regulations within Dodd-Frank. (Wall Street Journal)
Meanwhile, read this Mic story on how Trump is sabotaging his promises to help the economy. The data show that alienating trade partners, rolling back regulations and ignoring climate change are not good for business. 
More White House policy: The Trump administration told the State Department to not issue a drafted statement in honor of Holocaust victims that specifically referenced Jewish people. (Mic) 
The White House was under fire earlier this week when its International Holocaust Remembrance Day statement did not mention Jews, 6 million of whom were killed by the Nazis. "We took into account all of those who suffered," Trump's spokeswoman said. 
It looks like Milo Yiannopoulos will be at the White House on Friday, but not at the invitation of Trump. (Yahoo) 
The controversial "free speech fundamentalist" drew a national spotlight on Thursday after protests erupted before a speech he was scheduled to make on the campus of the University of California, Berkeley. That prompted Trump to tweet that if Berkeley did not allow free speech, perhaps it should lose federal funding. (It doesn't appear Trump can do that unilaterally.) To keep his media attention rolling, Yiannopoulos says he will attend the White House press briefing Friday. 
News and insight you cannot miss:
•  That "Bowling Green massacre" Kellyanne Conway casually referenced on Thursday? No, that never happened. #FakeNews #AlternativeFacts (Mic)
•  An investigation into voter fraud is no longer a priority for the White House, a week after Trump said he would devote federal resources to trying to find proof behind his false claim millions of people voted illegally. (Jim Scuitto)
•  Trump does not seem to know the difference between refugees and "illegal immigrants." (Huffington Post) 
•  That grew out of Trump's controversial call with the prime minister of Australia over the U.S. taking in refugees the Aussies have refused. Turns out, that deal is a two-way street. (BuzzFeed) And speaking of the deal with Australia, Bruce Springsteen said at a concert there that Americans are "embarrassed" of their president. (Entertainment Weekly)
•  The Trump campaign paid the president's companies nearly $13 million over the course of the campaign. (Politico)
•  The secretary of homeland security says he hopes the border wall with Mexico will be done in the next two years. (Politico)
•  Republicans advanced Scott Pruitt in the Senate on Thursday, voting him out of committee by suspending the rules. Democrats had boycotted the vote. Pruitt is Trump's controversial pick to run the Environmental Protection Agency. (New York Times)
•  Nordstrom dropped Ivanka Trump's clothing line due to poor sales and boycotts. (Mic)