14 feminist TV characters we need now more than ever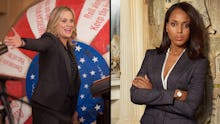 As the United States goes beyond the first days of Donald Trump's presidency, one where legislative attacks on abortion clinics and women's reproductive rights have become the norm, it seems we need our favorite TV feminists now more than ever before. 
Whether it's being inspired by their impressive career achievements or admiring the way these characters bounce back from hardships, these powerful women can teach us a lot about self-confidence and self-growth. And, most importantly, these incredible women can teach us how to be a badass woman in a world that is seemingly determined to keep us down. 
These women are shutting down the patriarchy, one episode at a time.
1. Leslie Knope, Parks and Recreation
Perhaps one of the most widely known feminists on TV is Parks and Rec's feisty Leslie Knope. Not only is Leslie dedicated to shutting down sexism and advocating for gender equality, she aspires to empower and support the women in her community in any way she can. From starting the Pawnee Goddesses to becoming her town's first female city council member, there's seemingly nothing Leslie can't do.
2. Buffy Summers, Buffy the Vampire Slayer
Pretty much everything about Buffy Summers is third-wave feminism at its finest. Yes, of course, Buffy is a powerful heroine, but her feminist roots go far beyond this archetypal trope. Buffy, for those who don't know, is a teenage, demon-hunting badass who refuses to follow the patriarchy's rules. As the Slayer, Buffy shows that femininity doesn't equate to being weak, that romantic relationships (even with the undead) do not define you and, perhaps most importantly, that women can kick ass and care about fashion — because, contrary to society's belief, these things are not mutually exclusive. Arguably, Buffy's devotion to her personal style beautifully illustrates a woman's multifaceted nature.
3. Tina Belcher, Bob's Burgers
Tina Belcher is a body-positive hero who confidently embraces her sexuality and isn't afraid to pursue her own romantic interests. Her combination of hypersexuality and unabashed quirkiness is, perhaps, one of the most relatable on TV. As a feminist icon, the eldest of the Belcher children teaches women of all ages to embrace their individuality and sexuality. Oh, and that's not to mention the powerful statement she makes by knowing her self-worth is never defined by others.
4. Maxine Shaw, Living Single
The women of Living Single constantly shattered stereotypes about black womanhood by creating their own definitions of black excellence. While Khadijah James is touted as the show's resident feminist (and rightfully so!), Maxine Shaw often doesn't get enough credit for her distinctive societal nonconformity. Not only was Shaw a sex-positive role model for women everywhere, but the quick-witted attorney was never afraid to stand up against her male counterparts.
5. Olivia Pope, Scandal
Perhaps one of the strongest female characters on television today, Olivia Pope is the epitome of #goals. A powerful boss lady, Pope shatters stereotypes about women, especially women of color, with pretty much everything she does. She demands respect and refuses to let others tell her how she should live her life. A champion for women's rights, Pope doesn't stand down when confronted with hardships (or haters). 
6. Lisa Simpson, The Simpsons
Lisa Simpson is celebrated as "everyone's first feminist role model," and that very well might be true, since her proud feminist views have graced television screens around the world since 1989. So, what makes Simpson such an influential feminist force? Is it her intelligence? Her fearlessness? Her brazen honesty? Well, it's all of that and more. Simpson dauntlessly calls out society's superficial representations of what a woman "should" be, and she actively attempts to create and pursue different ways to change the archaic thinking of the people around her. From creating her own feminist doll to becoming president of the United States (even if just for an episode), Simpson is the unapologetic feminist everyone needs in their life.
7. Topanga Lawrence, Boy Meets World
Topanga, Topanga, Topanga. What isn't there to love and admire about this teenage role model? Although the '90s coming-of-age sitcom mostly revolved around her relationship with Cory Matthews, Lawrence never let her romantic relationship define her. She was a free-spirited, no-bullshit kind of gal who always said what was on her mind. Lawrence was never afraid to go after what she wanted and, let's not forget, her role as resident body-positive warrior.
8. Mary Richards, The Mary Tyler Moore Show
No list of feminist television characters would be complete without the one and only Mary Tyler Moore Show. Premiering in the 1970s, the protagonist, Mary Richards, was unlike any other character on TV at the time. She was a single, 30-year-old woman who had her own career as a news producer. Talk about taboo. In addition to a number of storylines touching on important feminist topics, like equal pay and women in the workforce, The Mary Tyler Moore Show wasn't afraid to make women the center of a TV sitcom.
Game of Thrones is not at a loss for badass feminist women. There's Daenerys Targaryen, whose long-winded title includes just a few of her many feminist feats, and the ferocious Arya Stark, whose sharp tongue and sheer determination have helped her defeat even the toughest of enemies. But often overlooked is Brienne of Tarth — a highborn lady who has become one of the strongest warriors in all of Westeros. Often ridiculed for her appearance and choice of lifestyle, Brienne never lets the patriarchy define who she is. She literally slays any man standing in her way, proving herself time and time again.
10. Dana Scully, The X-Files
Dana Scully dominated the FBI (and television) during the '90s with her badass alien-hunting skills. Not only was Scully a medically trained doctor, she was one of the few women working in a predominantly male workforce. Nevertheless, Scully wasn't afraid to call Fox Mulder or anyone else on their bullshit. She was a logical, no-nonsense agent whose passion for her career — not her romantic relationships — defined her. Oh, and not to mention her powerful influence on young women looking to enter STEM fields. Yes, the "Scully effect" is real and downright awesome.
11. Annalise Keating, How to Get Away With Murder
Annalise Keating is one of television's all-time fiercest females. A renown defense attorney and law professor, Keating is the feminist antihero everyone needs in their life. A character who evokes a sense of both fear and admiration, Keating is able to be strong and powerful without compromising her emotions and sexuality. This character is complex in almost every way, but her determination and sheer bad-assery in court make her one of our favorite feminist role models. Aside from all the murder, of course.
12. Peggy Olson, Mad Men
Quite literally a woman in a man's world, Peggy Olson fights tooth and nail to make a name for herself in a male-dominated industry. Initially a somewhat demure character, Olson quickly finds her voice and isn't afraid to stand up for herself — no matter what the men at her office say or do to deter her. She is witty and ambitious, and she won't take shit from anyone. Her self-confidence and overall self-growth throughout the show are admirable and, quite honestly, inspiring.
13. Jane Villanueva, Jane the Virgin
Jane the Virgin is a refreshing look at womanhood on television. Raised by her mother and abuela, Jane Villanueva's feminism is shaped by her woman-centric household — and that's a darn good thing. Jane is an independent young woman who doesn't let her romantic relationships define her or her life choices. And not only is Jane a single, working mother, she also attends graduate school and isn't easily overwhelmed by her numerous responsibilities. She lives according to her rules and won't let anyone tell her otherwise. 
14. Olivia Benson, Law and Order: SVU
Currently, there are 403 episodes of Law and Order: SVU that feature Lt. Olivia Benson. She is a tough-as-nails, no-bullshit investigator who isn't afraid to say what needs to be said. She always fights for what's right — a true champion of justice. She stands up for every single sexual assault victim and is truly a beacon of all that is good and right in the world. She will always remind you that you are worthy of love and happiness, and that you can overcome any hardship in your life.