'Transformers: The Last Knight' Super Bowl spot: Watch Optimus Prime take on Bumblebee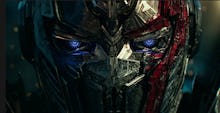 One of the most lucrative film franchises in history is set to return to theaters in the summer. The Michael Bay-directed Transformers films have grossed nearly $4 billion worldwide, with the last two movies each earning north of $1.1 billion. The fifth film in the franchise, Transformers: The Last Knight, will be released in theaters on June 23, meaning the marketing will soon move into high gear. 
Not surprisingly, Transformers: The Last Knight will take full advantage of the Super Bowl's immense viewership in an attempt to increase excitement for the franchise. And while Transformers has been a cash cow for Paramount, it never hurts to build some more goodwill, especially since the series has been traditionally dismissed by critics. 
But there is some reason for optimism regarding the fifth film in the money machine: Anthony Hopkins has joined the cast, while John Turturro, Josh Duhamel and Tyrese Gibson will be reprising their respective roles from the first three Transformers films (no, Shia LaBeouf won't be coming back). And if you are wondering what the Transformers Super Bowl spot will look like, we can answer that query. 
Bay recently dropped the 30-second ad on his YouTube channel, and we have it for you right here. Check it out:
While the above clip is only 30 seconds long, the trailer teases an extended look during Sunday's Super Bowl. And just so you're aware, those 30 seconds alone will cost Paramount a reported $5 million.
Why is Optimus Prime fighting Bumblebee?
The Super Bowl spot is now the second trailer for Transformers: The Last Knight that features Optimus Prime taking on his longtime ally, Bumblebee. Clearly, this is an aspect of the film that Paramount wants to tease. After Batman v Superman and Captain America: Civil War, there must still be some demand out there for heroes battling heroes.
Why Optimus Prime and Bumblebee are fighting is not yet clear. While very little (well, no) context is provided in this new Super Bowl spot, the film's first teaser trailer, released a few months ago, did offer a few more clues. At one point in that trailer, we see Optimus Prime floating in space, presumably dead. We later see a transforming planet. Cosmic Book News theorizes that the planet may be Unicron, who was first introduced in the animated Transformers: The Movie.
In that film, Unicron gives Megatron a new body, making him his servant. If Unicron is indeed in Transformers: The Last Knight, could he have done something similar to a dead Optimus Prime? It is unlikely we will get an answer to that question before the film is released, but something has to be causing Optimus Prime to be attacking his old friend, right?
Transformers: The Last Knight will be released in theaters on June 23.